The Legacy of a Living Legend: Our Champion For Women's Rights Passes On
As if 2020 hasn't taken away enough, The Notorious RBG has died only 7 weeks before the highly anticipated 2020 Election.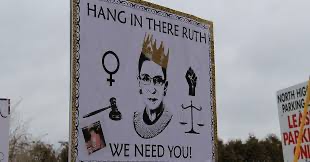 At approximately 7:49 p.m. on Friday night, a PLD Lamplighter editorial board member sent us a message that Supreme Court Justice Ruth Bader Ginsburg passed away due to complications from metastatic pancreatic cancer. 
I gasped, turned to my mother and older sister, and told them the news. My sister could only think of "the utter devastation in not being able to take the moment to be sad and mourn her passing but the dread of what will potentially pass after it." 
My mother had no words, only that she was "devastated."
Three generations of women living in our house, each of us crushed by the fact that this political powerhouse fell victim to a rare illness way before we were ready to let her go.
Justice Ginsburg, known popularly as RBG, has been in and out of hospitals for the past couple of years due to different health complications. While this is not uncommon of people in their late 80s, RBG was a real life superhero to people of all ages for all the work she did for women and the LGBTQ+ community. 
A sentiment from The New Yorker accurately describes the amount of good RBG has done: "Aside from Thurgood Marshall, no single American has so wholly advanced the cause of equality under the law."
A genuine savage, RBG took Supreme Court calls while she was not only in the hospital but also in the midst of a global pandemic. Being just the second of four females to serve as a Supreme Court Justice, her milestone cases changed the narrative for issues such as gender equality, reproductive rights, fourth amendment rights and marriage equality. 
Senior Khushi Arora, along with PLD Lamplighter Editor-in-Chief Sadie Bograd, founded the "He For She" club, a group dedicated to opening up the conversation about gender equality, and "Period," which is a charity for distributing feminine hygiene products to those who cannot afford them. 
A social activist herself, when Khushi heard the news of RBGs sudden demise, she described it as "truly heartbreaking." 
"She was an inspiration. Currently, the Senate majority is not in favor of waiting until after the election to fill her position, and whoever is appointed that position can be the difference between life and death," Khushi said.
Within 10 minutes of the first announcements, the country started reeling.

"No. No. No" began trending on Twitter. Hilary Clinton, who said she has been influenced by RBG, paid their tributes. 
"Justice Ginsburg paved the way for so many women, including me," Clinton said. "There will never be another like her. Thank you RBG."
Even people who didn't exactly agree with her, such as Attorney General William Barr, said they respected her because of how principled she was. 
"She and [he] did not agree on every issue, but her legal ability, personal integrity, and determination were beyond doubt," Barr said. "She leaves a towering legacy, and all who seek justice mourn her loss."
Although she was a force to be reckoned with, Ginsburg earned her opponents respect because she lived by the values of "You can disagree without being disagreeable," something we need more of in a world of such unrest. 
Her work touched many lives; many at Dunbar found themselves in shock as well. Even those who are not yet old enough to vote.
"She was truly an inspiration and hero to people of all ages. It's just admirable how passionate she was about the lives of others and [she] wishes other people could be like that," senior Nancy Zhang said.
Senior Sarah Albrecht said that the news of RBG's passing "is really messing with [her] anxiety because of where America might be heading." 
Ruth Bader Ginsburg lived long enough to teach the current generations how to raise the next. In her famous words, "Women will have achieved true equality when men share with them the responsibility of bringing up the next generation."
Rest in peace, RBG. We'll keep fighting in the meantime.
About the Contributors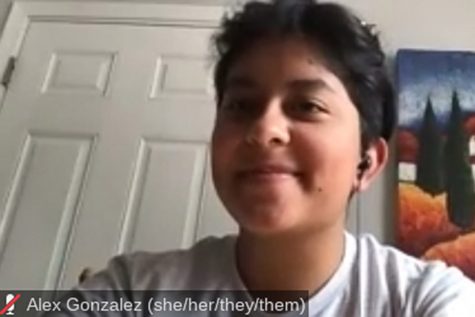 Alex Gonzalez, Online Editor/Webmaster
My name is Alex Gonzalez, I'm the Online/Tech Editor and Webmaster here at Lamplighter Media Productions, and this is my second year doing Lamplighter....