Chanting is common at sporting events, but in the case of the Aug. 29 match, some Dunbar fans were heard using a FIFA-banned Spanish word that is considered offensive. The word's original meaning is a derogatory term against the LGBTQ+ community, but colloquially, this word is also used as slang.
H-L Digital Sports Writer, Jared Peck, sent out a Tweet after Dunbar's game criticizing and calling out the behavior exhibited by some fans. 
This tweet not only makes Dunbar look bad as a school but also reflects badly on our student-athletes. 82% of undergrad college athlete recruiters have used X (formerly Twitter) to gain insight into a new recruit's character.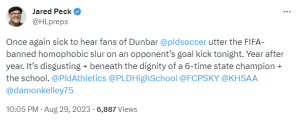 If these recruiters happen across this controversy, it could negatively affect the future of Dunbar's soccer players, many of whom are seniors.
We believe in upholding the reputation of our school, our students, and our coaches. This incident is an opportunity for all of us to re-evaluate not only our etiquette at sporting events but also the effect this behavior has on our hardworking athletes. 
One of the leaders of Dunbar's "Dog Pound," senior Nora Windsor, said she was concerned about how this reflects on the student section. The Dog Pound is a student-led section of fans who attend sporting events at PLD.
She said, "The student section was not involved in any of this and does not support the hateful things that were said."
Some Dunbar soccer players were also disappointed by the chanting.
Junior Christian Delgado said, "We enjoy the support of the fans, but we don't condone this type of behavior from them." 
Dunbar goalie David Betancourt said that he is worried about how the inappropriate chants might reflect badly on him and the other Dunbar soccer players.
"[Our fans] need to learn how to be respectful and not use that word," he said.
On a larger scale, this word is sometimes used in soccer games to distract a rival team's goalkeeper. 
For example, during the FIFA World Cup in 2022, fans of the Mexican team chanted the same derogatory word. The Mexican national team was fined $108,000 by the FIFA Disciplinary Committee even though they weren't involved and had no control over their fans' chants.
The fans involved in the incident were also punished. They were banned for five years by the FMF, the Mexican Football Federation.
When fans act out and become disrespectful it affects the teams they support. Just like the Mexican team suffered from their fan's actions, the image of the Dunbar boys' soccer team is also being tainted by these harmful chants.
We encourage fans, both student and non-student, to be more respectful in the stands.
---
*The 23-24 Editors-in-Chief are Ellee Moore and Kayla Torres
*The WPLD en Espanol team contributed to this article. The team includes Paulina DeLaRosa, Emily Fabian Martinez, and Julia Castillo.