In Loving Memory: a Tribute to Jason Howell
The Dunbar community was deeply saddened by the loss of a beloved colleague, teacher and coach this year.
Jason Howell was an extraordinary man who dedicated his life to shaping the future of countless young student-athletes at Paul Laurence Dunbar High School. As the Athletic Director, Howell's unwavering commitment, passion for justice, and genuine care for his students left a permanent mark on our hearts and minds.
Howell's presence was felt by all who crossed his path. His deep-rooted love for sports propelled the school's athletic program to new heights. Under his guidance, Dunbar was a  powerhouse sports program, achieving success in a myriad of sports through countless District, Regional, and State titles.
However, Howell's impact extended far beyond the field. He possessed a passion for criminal justice, which served as a source of inspiration in his duties as athletic director, teacher, and SAFE teacher.
Though Howell was not one to very openly express his affection, it was evident to all that he loved each and every student who walked the halls of Dunbar. He spent countless hours facilitating athletic events and guiding student-athletes toward their dreams. Many former students credit his mentorship and tough love for their personal and professional achievements.
One of Howell's most admirable qualities was his unwavering honesty. He was a man of integrity, whose words carried weight and whose actions spoke volumes. Whether it was dealing with situations on the field or navigating issues within the SAFE room, Howell could always be relied upon to make the right and honest decision, no matter how difficult it may have been.
Above all, Howell's dedication to Dunbar was unparalleled. He poured his heart into the school, tirelessly working to create an environment that fostered success and growth. His vision extended far beyond championships and trophies; he sought to mold young minds, helping students develop into well-rounded individuals who would make a positive impact on society. The hallways of Dunbar will forever echo his spirit, a testament to his legacy.
Jason Howell's impact on Paul Laurence Dunbar High School's athletic program and the lives he touched will forever be remembered. May his memory guide us as we navigate our futures, reminding us to embrace the same commitment and passion that he exemplified. His legacy lives on in the hearts of all those whose lives he touched.
Rest In Peace, Jason Howell.
***
Below are quotes from three friends who held Jason Howell close to their hearts.
(1)
Mr. Howell was a fantastic co-worker who taught Govt, Econ, US, Criminal Justice, and world history over his 15-plus years. Then in 2012 he took over as AD after coaching football, and baseball, and helping with our expanding athletics programs. 
He exemplified someone who was a workhorse but never wanted the limelight. He was someone who always would show up and help no matter what time of day. He was a loyal loving person who always spoke the truth. He was responsible for hiring many of our current coaches and securing outside funding for our programs and facilities. So many kids sought guidance from him that helped get them athletic scholarships. 
He will be remembered the most for his acts of love and kindness in the "We Are Dunbar Program." He loved this school so much and would do anything for the staff and kids. That program created a pathway to make sure the Dunbar Family never went without. 
He would always say "It's The Dunbar Way." His motto was "eyes clear, hearts open, arms locked" …..and we hope we can live by it because #we are Dunbar. He showed strength that our kids respected and trusted. He was an adult our kids knew they could always go to for help. His tough exterior but the soft heart will always be remembered by colleagues and students.
(2)
Mr. Howell and I grew up in the same small town of Pikeville, KY.  We went to the same High school and played football together as teammates from 1989-91. He was a year older than I so we actually went to the same school from K-12 together. 
The quality that I admired was his brutal honesty. If he liked what you are doing he would tell you and if he didn't like it he would tell you.  There was no gray area with him.  
The "We Are Dunbar" Initiative!  He would give the shirt off his back to help students in need.  He also loved PLD Athletics with all of his heart and wanted to see every team have success. He also would recite the "The Dunbar Way!"   The three C's are Community, Collaboration, and Commitment!  
Jason Howell will be remembered for a lot of different things by the students, faculty, and staff here at PLD.  I just want to make sure he is remembered for his unwavering dedication to PLD Athletics and for making sure that everything we did was on a 1st class level.  Jason Howell flat-out Loved PLD!  
(3)
Mr. Howell was like a brother and a mentor and a friend. 
He was a do-er. He made sure things got done. He was so passionate about Dunbar athletics, the staff, and the athletes. He wanted the best for each athletic program. Jason also went above and beyond for many students who needed extra help. I remember one autistic student who had a difficult time in school. He loved history and wanted to take criminal justice. Jason has this student in the class and became a safe place for this student. It was amazing to see the rapport that Jason built with this student over the years. 
We was DUNBAR. He loved the school, staff, and students and he strived to make Dunbar athletes the best. 
***
If you or someone you know needs support, call or text 988 or chat at 988lifeline.org.
About the Contributors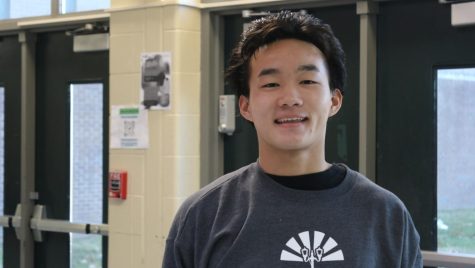 Nathan Zhu, Sports Editor
Hi, I'm Nathan! This is my second year on staff and my first year as the Sports Editor. One of my favorite things to do is watch and analyze sports, but...