Trump's Coronavirus Failure
The President has been extremely irresponsible while handling this national emergency.
"We have rung the alarm bell loud and clear," World Health Organization Director-General Tedros Adhanom Ghebreyesus said on March 11 when the coronavirus outbreak was declared a global pandemic.
The number of global coronavirus cases has surpassed 115,000, and more than 4,200 have died. In the U.S. there have been more than 1,200 cases confirmed and 39 confirmed deaths. Not to mention that the virus has spread to at least 40 states, many of which have declared a state of emergency. The largest outbreaks so far have been in New York and Washington.
"The idea of anybody getting it easily the way people in other countries are doing it, we're not set up for that," U.S. health official Dr. Anthony Fauci said. "Do I think we should be? Yes. But we're not."
Only about 4,384 people have been tested for the virus in the United States which is extremely low compared to other countries, and America only has the capability of testing 75,000 people as of March 11. Without proper testing, the full extent of the outbreak cannot be contained.
"
This isn't the time for insufficiency or laziness which is all I've seen from the Trump administration."
Since the virus was discovered in Wuhan last December, it has spread to more than 114 countries, and that number is expected to increase. The number of infected continues to grow every day.
Director-General Ghebreyesus issued a grave warning: "this is not a drill. This is not the time to give up. This is not a time for excuses. This is a time for pulling out all the stops." 
He's right. This isn't the time for insufficiency or laziness which is all I've seen from the Trump administration.
As fears of the coronavirus grow, President Trump has relentlessly assured the American people that we're safe and risk is low. These claims contradict the CDC and other health professionals. Even so, he hasn't shied away from butting in and providing his own conclusions. During an interview with Fox News' Sean Hannity, Trump openly contradicted WHO by declaring the mortality rate of 3.4 percent as false because he had a "hunch."
During a press conference at the White House, health officials warned that the coronavirus will continue to spread throughout the country and the Centers for Disease Control warned that "we do expect more cases, and this is a good time to prepare."
Yet at the same press conference, Trump downplayed the seriousness of the virus spreading.
"Within a couple of days is going to be down to close to zero. That's a pretty good job we've done," Trump said. "We're going very substantially down, not up."
The virus has and will continue to spread throughout the U.S., and suggesting otherwise is irresponsible and reckless. President Trump's claims cite zero scientific evidence, and that is unacceptable.
While testifying in front of Congress on March 11, Dr. Anthony Fauci was asked: "Is the worst yet to come?" He replied: "Yes it is… Things will get worse…The bottom line it's going to get worse."
Dr. Fauci also stressed that the virus is 10 times more lethal than the flu, which only kills about 0.1 percent of Americans each year. Trump has repeatedly compared the two viruses, once again downplaying the seriousness of this issue.
It's extremely important that the information coming from the White House is accurate. Misinformation is dangerous, and contradicting top U.S. health officials is exceptionally harmful.
In normal fashion, Trump has gone on the offense when it concerns his comments. Stating that the criticism about his remarks is a Democratic "hoax" and media "hysteria." 
No, spreading misinformation about a pandemic is a "hoax."  It's clear that the President and his administration aren't taking this seriously.  
Trump has appointed Vice President Mike Pence to oversee America's response to the outbreak taking a different route than President Obama who appointed a czar during the Ebola outbreak a few years ago. 
Interestingly, Mike Pence has a bad history of dealing with virus outbreaks. During his time as Indiana's Governor, an H.I.V. outbreak occurred, during which Pence slowly and reluctantly allowed a needle exchange to go into effect. If he had acted sooner the outbreak could have been prevented.
Pence has a history of defying science-backed facts.
Trump's decision to appoint pence to oversee a pandemic is extremely short-sided. 
This is the first "real" test of Trump's presidency and so far he is failing, miserably.  
The coronavirus outbreak has begun to take its toll on the economy. The stock market continues to nosedive and many people aren't prepared nor have the necessities to miss work if they were to get sick. Trump has suggested passing a payroll tax cut in order to curve the effects this isn't popular in Congress.
Democrats have proposed paid sick leave measures in order to ensure people are able to miss work without missing a paycheck, this is the right thing to do. Paid sick leave would allow people to remain financially stable in case they have to self-quarantine.
"
If people can't miss work they will continue to go, spreading their illnesses making the outbreak worse"
If people can't miss work they will continue to go, spreading their illnesses making the outbreak worse.
On the evening of March 11, Trump addressed the nation. In this address, he announced that travel will be limited between the U.S. and European countries, excluding the U.K. for the next 30 days. During which he touted the U.S. economy stating that we are the most prepared to handle the virus. 
The President should have taken the extra step and declared a national emergency like Sen. Chuck Schumer suggested. Doing so would allow FEMA to step in and would free up funding to help states combat the virus.
According to Politico, Trump has been reluctant to declare one simply because it "could hamper his narrative that the coronavirus is similar to the seasonal flu." Trump cares more about his image than he does the American people.
Once again showing he isn't fit to lead the country through a pandemic.
The Trump administration's response to the outbreak has been weak and irresponsible.
About the Contributors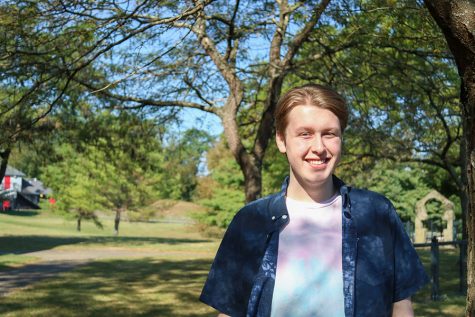 Anthony Mondelli, Chief Copy Editor
My name is Anthony Mondelli, this is my second year on the Lamplighter staff. I wouldn't want to spend my senior year any other way.

This year I'm...