Trump Acquitted
The President was found "not guilty" of all impeachment charges. He will remain in office for the rest of his term.
On Feb. 5 President Donald Trump became the third President in American history to be acquitted by the Senate. After three bitter weeks, the impeachment trial has come to an end.
Trump was accused of withholding millions of dollars of military aid in order to gain dirt on Joe Biden. This was the final straw for House Democrats who then decided to pursue impeachment. Then, having been impeached by the House on the charges of abuse of power and obstruction of Congress, the Senate conducted the trial that decided the president's fate. 
In a 52-48 vote, Trump was acquitted of abuse of power. In a 53-47 vote, Trump was acquitted of obstruction of Congress.
Democratic Senators Doug Jones, Joe Manchin, and Kyrsten Sinema, who had been on the fence and are seen as moderates, joined their Democratic colleagues in voting guilty on both charges. 
This is somewhat surprising considering they represent the purple states that Trump won in 2016.
Doug Jones took the biggest risk. He will be facing a tough re-election in deep-red Alabama this year. His conviction vote may turn the tide against him. Sinema and Manchin aren't up for reelection until 2024 giving them time to persuade their constituents that they did the right thing. 
Mitt Romney was the sole Republican to join Democrats in a vote of conviction on abuse of power. However, Romney joined his party in a vote of acquittal for obstruction of Congress.
"
Corrupting an election to keep oneself in office is perhaps the most abusive and destructive violation of one's oath of office that I can imagine."
— Sen. Mitt Romney
"Corrupting an election to keep oneself in office is perhaps the most abusive and destructive violation of one's oath of office that I can imagine," Romney said.
The Senate, unable to reach a two-thirds majority on either article ensures Trump will remain in office for the remainder of his term.
This acquittal is arguably the last act of the impeachment saga. Democrats will now turn their attention to beating Trump at the ballot box. Hoping voters are convinced by the evidence provided by the House Managers. However, Democrats have continued to dismiss the trial and acquittal as a "sham" and "coverup" orchestrated by Republicans. 
Republicans, on the other hand, are celebrating what they feel is a win for the President and a loss for Democrats. Hoping acquittal boots their efforts of reelecting Trump.
"The sham impeachment attempt concocted by Democrats ended in the full vindication and exoneration of President Donald J. Trump," White House Press Secretary Stephanie Grisham tweeted.
While it was clear from the start that Trump would most likely be acquitted, the last few weeks have not been without surprises, not to mention the tension arising between the two parties.
During the "Q&A" portion of the trial, Chief Justice Roberts refused to read a question submitted by Senator Rand Paul aloud in the chamber. Paul's question contained the alleged name of the whistleblower who shed light on the President's Ukraine dealings. 
But this was the only question Chief Justice Roberts refused to read.
"
He shredded the truth, so I shredded his speech."
— House Speaker Nancy Pelosi
Following the revelations by former national security advisor John Bolton, two Republican Senators broke from their party last week to join the Democrats' demands for new evidence. 
Senators Susan Collins and Mitt Romney voted to subpoena witnesses and documents related to the Ukraine scandal; however, the resolution was unable to reach the 51 votes needed to pass thus sending the trial to closing arguments.
The State of the Union address made it very clear the process has put a strain on the already dysfunctional relationship between Speaker Nancy Pelosi and President Trump.  
First, the two did not shake hands before the President began his speech, and Pelosi at times was mouthing remarks and shaking her head at statements made by Trump. But what followed was unprecedented–Nancy Pelosi ripped her copy of Trump's speech in half as he left the chamber.
"He shredded the truth, so I shredded his speech," Pelosi said, defending her actions during a closed-door meeting. 
In typical partisan fashion, she has received praise from fellow Democrats yet has been condemned by Republicans.
The long term effects of impeachment are yet to be seen as both parties hope the last few months go in their favor. Either way, most would agree the last few months will go down in history.
Donate to Lamplighter Media Productions
Your donation will support the student journalists of Paul Laurence Dunbar High School by helping us cover our annual website hosting costs. All donations go directly to School Newspapers Online (SNO) to cover our fees.
About the Contributors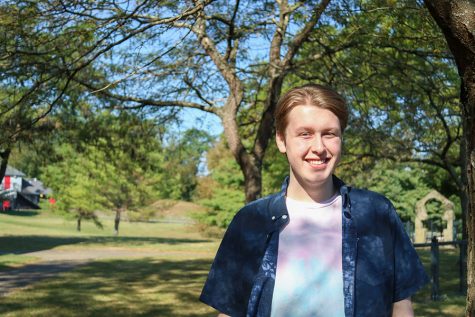 Anthony Mondelli, Chief Copy Editor
My name is Anthony Mondelli, this is my second year on the Lamplighter staff. I wouldn't want to spend my senior year any other way.

This year I'm...