No Seat at the Roundtable
When PLD Lamplighter's Editorial Board attempted to cover the education discussion on April 17, they were turned away.
When we, members of PLD Lamplighter's Editorial Board, arrived at the Bluegrass Community Technical College Newtown Pike campus to cover the roundtable discussion on education hosted by Governor Matt Bevin featuring the Secretary of Education Betsy DeVos, we were told we could not enter.
A man wearing a BCTC badge on his blazer approached our car and silently glared at us. Finally, one of our Editors-in-Chief, Reese Wheatley, said "We're here for Matt Bevin and Betsy DeVos's roundtable discussion."
"Well, okay," he said. "Who are you with?"
We presented our school identification badges and showed him our press credentials. He nodded as if that would be enough, but then asked us if we had an invitation. We looked at each other, eyes wide with surprise. Invitation? For a roundtable discussion on education?
"Yes, this event is by invitation only," he said and then waved us away.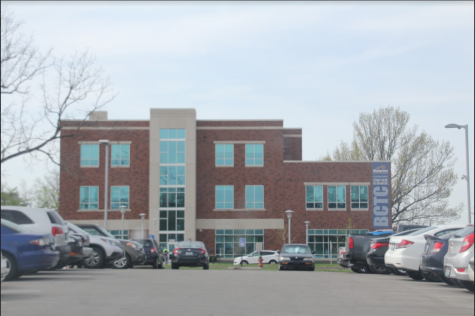 At that point, we pulled over and contacted our adviser, Mrs. Wendy Turner. She instructed us to try again and to explain that we were there as press to cover the event for our school newspaper. We at least needed to understand why we were not allowed in, and why it was never publicized as "invitation only."
We watched as the same man waved other drivers through without stopping them, but he stopped us again. Instead of listening to our questions, he just repeated "Sorry. It's invitation only."
Disappointed, we called Mrs. Turner again and explained the situation. We were missing school for this event which had been reported as a "public" event on a public college campus. Unable to ask questions, we settled for a picture from our car.
It was then that our story turned from news coverage to editorial.
After leaving campus, we started looking through social media, seeking information from other journalists' accounts, and trying to find a live stream.
We scrambled to get ourselves together because we were caught off guard, and we were in a hurry to produce anything we could to cover the event and meet our deadline. We called our newsroom to get assistance from our other editors. Since we were out on location, we had little to work with.
After more research, we found mentioned on the government website that the meeting needed an RSVP, but there was no mention of an invitation. How do you RSVP when there is no invitation?
On the website, it also stated that the roundtable was an "open press event." Doesn't open press imply open to ALL press including students?
We are student journalists who wanted to cover an event in our community featuring the Secretary of Education, but ironically, we couldn't get in without an invitation.
We learned of this event on April 16, as others did, over social media and from our local news stations. At that point, we immediately began making plans to be there because as young journalists, we appreciate any opportunity received to demonstrate our professionalism. These types of events are where we learn, and chances like this do not come around often.
"
It was heartbreaking to us, as young journalists fired up to cover an event regarding the future of education, to leave empty-handed.
Local news station Lex18 posted its first article regarding the event on April 16 at 10:43 a.m. It discussed how Ms. DeVos would be attending two events in Kentucky, one in Lexington, and the other in Marshall County. There was no mention of an invitation or RSVP needed to attend the event.
Another local station, WKYT, posted its first article regarding this event at 10:44 a.m. There was no mention of an invitation or RSVP needed to attend the event in this article either.
Why was this information only shared a little more than 24 hours before the event? When the Secretary of Education is visiting your city, you'd think you'd have a little more of a heads-up.
We can't help but suspect that the intention was to prevent people from attending. Also, it was held at 11 a.m. on a Wednesday. What student or educator is free at that time?
And as students, we are the ones who are going to be affected by the proposed changes discussed at the roundtable, yet we were not allowed inside. How odd is it that even though future generations of students' experiences could be based on what was discussed, that we, actual students, were turned away?
We expected the event to be intense. We expected there to be a lot of information to cover. But not being able to exercise our rights under the First Amendment was something we never thought would happen. We weren't prepared for that.
It was heartbreaking to us, as young journalists fired up to cover an event regarding the future of education, to leave empty-handed. But as we researched we learned that we were not the only ones who were disappointed and frustrated.
There were social media posts that exhibited confusion from parents, students, and educators—especially because no public school representatives were participants in the event.
We emailed FCPS Superintendent Manny Caulk to ask if he had been invited, and he answered that he had not.
Of the 173 school districts in Kentucky that deal directly with students, none were represented at the table. Zero. This is interesting because the supposed intention of the event was to include stakeholders–educators, students, and parents.
Fayette County School Board member Tyler Murphy even took to his Twitter to satirize the lack of time DeVos and Bevin took to visit local public school educators.
When we reached out to him via email to explain what we experienced, he responded "If Secretary DeVos wanted a true understanding of our public schools, she should hear from the people who participate in it every day."
Multiple social media handles on Twitter also tweeted about the event, and that's how we were able to get information.
For instance, Olivia Krauth of the Insider Louisville live-tweeted the event. She tweeted that Kentucky Commissioner of Education, Wayne Lewis, spoke of the National Freedom Education Scholarship proposal and that it can help fix a shortage in resources in Kentucky, allowing students to participate in dual enrollment or AP classes.
The Kentucky Educator's Association tweeted "Public schools in KY are doing transformative and innovative things with less funding. We don't need vouchers, we need full funding. The picture below isn't a conversation about educational opportunities, it's a shareholders meeting about future earnings on the backs of Kentucky's kids."
If we had been there, perhaps we could have asked a question about the opportunities we already experience in public schools. What shortage of resources do we have if public schools already have dual enrollment and AP classes with hundreds of student participants? Exactly which resources is Commissioner Lewis referring to?
It was interesting to us that after the event, Governor Matt Bevin said "The people here care about the kids. Every single person who sat around this table cares about the children — not about funding, not about territory, not about power, not about politics."
He added, "They care about parents and they care about students and it was a broad representation of people who care about those things."
Being locked out of the event, and having access to little information beyond what we were seeing on social media, we discovered a few professional journalists who were allowed to be present at the roundtable discussion.
We reached out to them and asked if they had received an invitation, or if one had been requested from them upon entering the event. All of them responded that they only had to RSVP after seeing a press release on April 16.
Not that we're happy about it, but we understand why a student news organization wouldn't have been considered important enough to receive a copy of the media press release; however, we wonder why we were the only ones asked for an actual invitation. It seems that no one else received any hard copies of invitations. And why, after our explanation that we were not given the press release asking for an RSVP, weren't we allowed to enter as students and stakeholders?
After speaking with BCTC's Associate VP for Strategic Communications, Michelle Sjogren, on April 19, she informed us that BCTC was contacted through the state to host the event "fewer than two weeks ago."
She said BCTC was strictly a venue where invitations were determined by Secretary DeVos' office, and that BCTC was simply provided with a list of who responded as RSVP.
"Our security people were working off of instructions from Secretary DeVos' team. They were told there was an invitation list. The instructions we were given were that whoever is coming in needs to be on the list," she said.
"They're doing their job, and we're doing our job," Ms. Sjogren said.
As we continued to search for information about why a closed event was held on a public college campus, we met with BCTC President, Dr. Koffi Akakpo, and Ms. Sjogren on April 22. Dr. Akakpo, who said he had been on the job for 10 weeks, said that he received a call on April 5 to reserve a room that could hold 25-50 people.
So, if there was intent to include a variety of stakeholders at the meeting, why did they ask for such a small space?
Lexington Herald-Leader Reporter, Valarie Honeycutt-Spears, who wrote a story about our experience, shared a statement attributed to U.S. Department of Education Press Secretary Liz Hill.
It reads "No one from the Secretary's staff was made aware that student journalists were attempting to attend the roundtable. We welcome student journalists and would have been happy for them to be in attendance. We are looking into what, if any, miscommunication might have happened between other staff on site for the event."
So, Secretary DeVos' office did not anticipate that student journalists might want to come? And BCTC was just a venue providing security to act as gatekeepers based on a list?
Ms. Sjogren said that BCTC would add PLD Lamplighter to her media list so that we would receive press releases in the future.
Although we are appreciative of BCTC's effort to include us in their media in the future, we believe it should be common practice for all organizations to include student journalists in the distribution of press releases.
It should be noted that when the Governor and Secretary DeVos had their second roundtable in Benton, there were pictures of students in attendance including a young man who appears to be a student photographer. We understand that their visit to Marshall County High School was not to discuss school choice but to award a well-deserved grant to the school community that suffered an unimaginable loss on January 3, 2018.
Although we certainly support what occurred during the visit to Benton, we think it's appropriate to note that students were allowed to be present at that event because it was not controversial, but they were not allowed to be present at the one in Lexington because it was.
We wonder if the topic of school choice at the roundtable in Lexington is what kept public school students from being able to attend. Don't they want student input? After all, Secretary DeVos once said at a town hall meeting that "It is easy to be nasty hiding behind screens and Twitter handles," she said. "It's not so easy face-to-face."
I guess we won't get that face-to-face opportunity.
We learned that one student was at the roundtable. Her name is Aaliyah Alim, and she currently attends Centre College, a privately owned institution. She attended Mercy Academy in Louisville, an all-girls Roman Catholic school.
We asked how she received her invitation. She said, "I was invited along with my mom. We sat at the table and were given the chance to ask questions of DeVos and Bevin."
She said that "most, if not all, of the invited were from the Kentucky government. I was the only student at the table and I was invited because of a scholarship program I was a part of in Louisville."
She said she only asked one question at the event, and it was concerning scholarship funding gaps for K-11 school choice. She told us the response was "People/businesses can choose where their money goes essentially."
The bottom line is that we do not think that it is fair to have a closed roundtable about education when it affects thousands of Kentucky teachers, students, and parents.
Governor Bevin is quoted as saying "It is remarkable to me that this is even remotely debatable."
Well, Governor, when public school students can't attend a roundtable discussion about what's best for students, how can you possibly be surprised that people are upset?
There was a lesson in this experience, though. We learned that the job of a journalist is to chase the story by any means necessary. We learned to be resourceful and meet our deadline even if it wasn't in the way we initially intended. And we learned that although students aren't always taken seriously, we have to continue to keep trying to have a seat at the table.
Update: We updated this article at 6:53 p.m. on April 18 to include a quote from Tyler Murphy.
Update: We updated this article at 11:24 a.m. on April 19 to include a list of the participants at the round table which was released in a news release issued by the Bluegrass Institute: In addition to Ms. DeVos and Gov. Bevin, attendees included Wayne Lewis, Kentucky Education Commissioner; Kathy Gornik, KBE Supreme Court District 5 member; Derrick Ramsey, Kentucky Education and Workforce Development Cabinet; Linda Hampton, Governor's Office of Early Childhood; Hal Heiner, Dr. Gary Houchens, and Milton Seymore of the Kentucky Board of Education; Kristina Slattery, Kentucky Cabinet for Economic Development Business Groups; Iris Wilbur, Greater Louisville Inc.; Andi Johnson, Commerce Lexington.
Stakeholders included Ryan Cantrell, American Federation for Children; Andrew McNeill, Americans for Prosperity; Andrew Vandiver, Catholic Conference of Kentucky; Jim Waters, Bluegrass Institute; Charles Leis, Ed Choice Kentucky; Deana Paradis, Kentucky Association of Independent Schools; Dr. Kris Williams, Chancellor, Kentucky Community and Technical College System; Aaron Thompson, Kentucky Council on Postsecondary Education; Heather Huddleston, School Choice Kentucky; Kesia Alim Hatcher, parent, and Aaliyah Alim, student.
We are attempting to contact Ms. Alim to get her perspective as a student.
Update: We updated this article at 3:39 p.m. on April 19 to include a quote from the US Department of Education Press Secretary, Liz Hill, and information from BCTC's Associate VP for Strategic Communications, Michelle Sjogren.
Update: We were able to contact Ailiyah Alim, the only student at the roundtable, at 5:45 pm on April 19, and we updated this article to include quotes from her.
Update: We added a link to the article written by Valarie Honeycutt-Spears at 7:40 a.m. on April 20.
Update: We added a quote and information at 9:22 a.m. on April 22 after a meeting at 8:45 a.m. with BCTC President Koffi Akakpo and Associate VP for Strategic Communications, Michelle Sjogren.
Photo Editor Carson Sweeney contributed to this article.
About the Contributors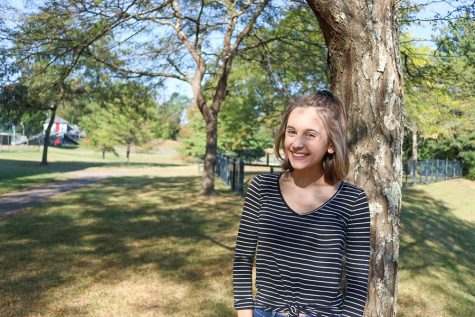 Olivia Doyle, Editor-in-Chief
My name is Olivia Doyle. This is my third year on staff and I am one of three Editors-in-Chief for Lamplighter. Last year, I was the Public Relations Manager...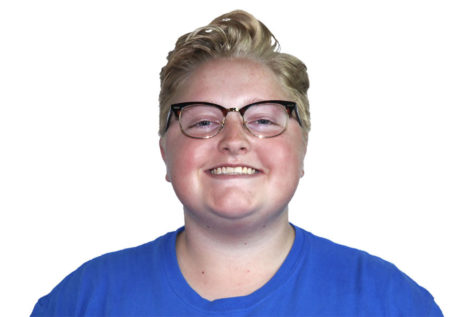 Reese Wheatley, Editor-in-Chief
My name is Reese Wheatley and this is my third year with PLD Lamplighter. Journalism is my love and special education is my passion. I'm fortunate enough...