Beshear Closes Restaurants, Schools
The recent rise in COVID-19 cases and deaths led the governor to impose new restrictions.
On Tuesday, Nov. 17, the U.S. saw its highest daily COVID-19 death toll since May. In Kentucky, there were 33 new deaths on Tuesday, a record high. In response to growing worries about new waves of COVID-19, Governor Andy Beshear is tightening restrictions on gatherings and public spaces in order to protect the health of the Commonwealth. 
"Kentucky is now experiencing a potentially catastrophic surge in COVID-19 cases, which threatens to overwhelm our healthcare system and cause thousands of preventable deaths,"  Beshear said. 
In an executive order issued on Wednesday,  Beshear set down new regulations for COVID-19 safety in Kentucky. These rules began on Friday at 5 p.m. and end on Dec. 13. 
The executive order calls for the following:
1. Restaurants and bars must stop serving indoors and must stick to delivery, to-go service, and outdoor dining with social distancing. 
2. All indoor gatherings are expected to have no more than 8 people from at the most 2 different households. 
3. Indoor recreational establishments such as gyms cannot have more than 33% of their maximum occupancy at a time. 
4. Indoor group activities at pools and gyms are not allowed.
5. Venues for larger gatherings such as movie theaters are restricted to 25 people per room. 
6. Professional services or offices must either close and require employees to work from home, or maintain only 33% of employees on site. 
7. All public and private schools K-12 stop in-person classes until at least January 4th. Elementary schools may begin to have in-person classes December 7th under certain circumstances.
"Help slow the rapid spread of COVID-19[,]" Governor Beshear said in a tweet about the new restrictions. 
The transition to online school is new for some private schools that were continuing in-person classes. 
"While I personally feel prepared for the switch to online, I don't really support it. I think people's education should be prioritized over the virus," Sayre junior Henry Jett said.
While there are students who share this opinion that in-person classes are the best choice moving forward, Beshear's belief and decision is to move all schools to online classes.
"Our children are resilient, but they are sacrificing so much and we need them to sacrifice even more right now so we can protect them from this surge in cases," Beshear said. 
As there seems to be no momentary lapse in COVID-19's onslaught of record breaking numbers, there is hope that stricter restrictions will allow safety and health to be the number one priority in Kentucky.
About the Contributors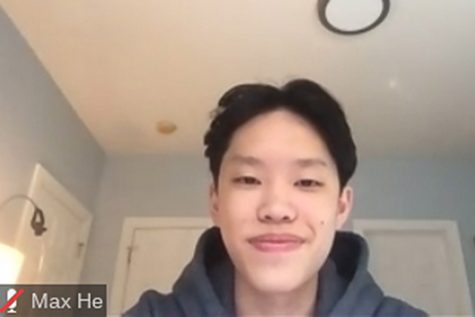 Max He, Staff Reporter
Hi! I'm Max and I'm a senior in the Math Science Technology program at Dunbar and this is my second year as a staff reporter for Lamplighter. I mostly...