Coronavirus Cancels Vacations
Students at Dunbar hope for a better spring break next year.
FCPS's spring break was scheduled this past week; however, it hardly felt like a break as students have already been out of school for two weeks.
Fayette County Public Schools are not scheduled to resume classes until at least May 4. As of April 1, Kentucky has 770 confirmed reported cases of COVID-19 and 31 deaths.
Due to the increase in cases worldwide and nationwide, many families canceled their  spring break getaways. Many beaches in Florida are closed to the public.
"I was planning to go to St. Petersburg," sophomore Madison Hart said. "We decided to stay home when all the beaches started to close and when the virus started spreading."
Some students said that their families will be able to reschedule their vacations once it is safe to do so.
"My family was planning on going to Marco Island to our beach house for spring break," freshman Macie McCubbin said. "We decided to stay home but are planning to go when all this craziness calms down."
"
My spring break will be pretty boring without the beach trip."
— Parker Smith
Beaches are not the only spots closing due to this pandemic.
Many bands have canceled or postponed their upcoming concerts and tours. 
"I was planning on going to a concert with my mom and a couple of my close friends," sophomore Emma Smitha said. "The concert was postponed about two weeks before we were planning on going."
Traveling between countries is either banned or restricted, and along with this, it is unsafe and against the social distancing policies to have large groups of people gather for big music concerts.
"I do think this is a safer option especially with a lot of people in one place, but I really wish I could go," Smitha said. "But  I don't want to get sick or risk other people getting sick."
Walt Disney World and Disneyland are two hotspots that attract millions of people around the world. Disney World has only ever closed unexpectedly six times in history due to hurricanes and once for the 9/11 attacks.  Disneyland has only closed due to John F. Kennedy's assassination, the "Yippies" protest on Tom Sawyer's Island, the Northridge Earthquake and the 9/11 attacks. This year, the coronavirus has forced the happiest places on Earth to shut their doors.
"My family was planning on going to Disney World, but we decided to stay home. We plan to go during Thanksgiving break," junior Kendra Duarte said.
Disney cruises are popular vacation cruises and have also been shut down until COVID-19 is under control.
"We were planning on going on a Disney cruise," freshman Keefer McMillin said. "With everything that's going on, this is what's best to keep our family safe."
While many students' spring break plans changed, they are adjusting.
"Obviously staying home is safer but we would have taken all necessary precautions to stay safe if we had gone. My spring break will be pretty boring without the beach trip," senior Parker Smith said.
In order to continue social distancing, most students said they will stay home during the break to do things they often can't do while catching up on sleep and schoolwork.
"I plan to focus more on myself and do things that I feel like I never really have time to do like working out," Duarte said.
About the Contributors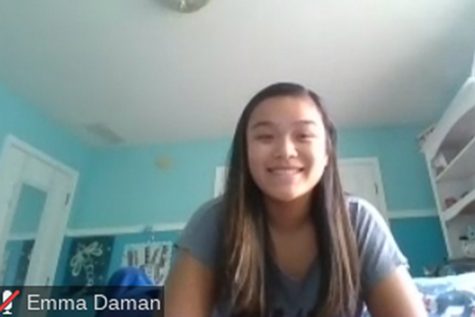 Emma Daman, Staff Reporter
My name is Emma, I am a junior and this is my third year on the Lamplighter staff.

I have always enjoyed writing more than any other subject since I...