Hot Weather and Student Athletes
Heat can be very dangerous to your physical and mental health if precautions are not taken.
Students who participate in sports and other outdoor activities in Kentucky this school year have to adhere to KHSAA's new heat-related illness safety guidelines. This means that some Dunbar sports teams have had to cancel their games/practices or move practices inside.
"The heat affects our sport greatly because it is outdoors so our conditions depend on the weather. We had two practices moved indoors due to the heat. We can't accomplish as much indoors as we do outside through workouts and longer runs so this does hurt us as a team," senior cross country runner Kelsey Siebenthaler said.
The high temperatures not only cause some sports or activities to be moved inside, but they also can affect the overall performance. As the heat increases, it forces a person to exert more energy just to be able to perform like they would in normal conditions.
"The heat has affected not only my performance but the whole band's. Musically, the heat makes it very difficult to tune," sophomore marching band member Elizabeth Gordon said.
Heatstroke is the most dangerous disorder, but heat exhaustion, heat cramps, sunburn, heat rash or even cardiovascular and respiratory issues are possible outcomes of staying out in extreme heat too long. Although physical illnesses are easier to recognize, changes in mental well being is also a possible result of extreme heat.
"Recently, I have felt kind of sluggish due to the heat, and I have noticed people being in a bad mood due to being overheated," junior girls' soccer player Taylor Smith said.
Most sports best thing students can do for their bodies is to drink lots of water.
Student-athletes should drink more than the average teenager. Fluids in the body are lost throughout an intense workout, so it is important to replenish those fluids. According to TrueSport teenagers should, "…divide their body weight in half and drink at least an ounce per pound of bodyweight throughout a typical day."
That amount is higher for a teenager who is constantly putting their body through physical exercise.
"Our trainer Cody gave us breaks for water so that we would not get dehydrated. We were also forced to take off our pads and helmets which made practices a lot slower but ensured our safety," sophomore football player Sy Turley said.
Physically, the severe and prolonged exposure to heat can possibly lead to death. Cases have even occurred as close as in Louisville. According to WLKY, "In 2008, Max Gilpin collapsed during football practice at Pleasure Ridge Park High School. He died three days later."
This death led the Kentucky High School Athletic Association (KHSAA) to change their policy.
Mentally, a heatwave can cause an increase in aggression, violence or crime due to the amount of stress excess heat places upon one's mental state. Two researchers at the University of Southern California found that "On average, overall crime increased by 2.2% and violent crime by 5.7% on days when the maximum temperature is above 85 degrees in Los Angeles."
"Energy levels are at a low when the heat moves too high, which can lead to bad training habits. So it's nice that we moved to the gym in order to practice with higher energy. Hydration is key for us. We have to make sure our athletes are hydrating all day long so we can prevent any heat exhaustion or worse. We also make sure our athletes run in groups so that way they are never alone on runs," cross country head coach Mr. Daniel Janbakhsh said.
The decision to alter or cancel an outside school activity is made based on the specific parameters for severe weather that are set by the Kentucky High School Athletic Association along with the Kentucky Medical Association (KMA). There is a color-coded heat index chart on the KHSAA website that explains all the precautions that need to be taken at certain heat indexes. As the heat index gets higher, the precautions get more serious.
"The heat index is monitored by our trainer Cody Begley who has a small device that reads the heat index. He also has to record all information to keep on record to turn in to the Kentucky High School Athletic Association and they keep it on record for the Kentucky Medical Association," Dunbar Athletic Director Mr. Jason Howell said.
Some student-athletes may not agree with having to miss practice time because they are only worried about the upcoming game, meet or competition and not the possible effects of heat-related illnesses. KHSAA and KMA have these parameters set to ensure the health and safety of all athletes and students.
"As far as heat index goes while athletes are out practicing, Cody has the call on what activities are done and when equipment should be taken off. As far as games and things of that nature, we have a little bit of discretion for if we want to sit through all the delays, but the safety of our athletes, staff, and fans is most important. We will always air on the side of caution when it comes to that judgment call," Howell said.
About the Contributors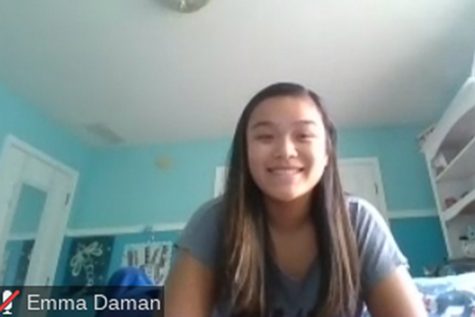 Emma Daman, Staff Reporter
My name is Emma, I am a junior and this is my third year on the Lamplighter staff.

I have always enjoyed writing more than any other subject since I...