The Band That Helped Me Love Myself
They say you should always believe in your dreams, for one day they will come true; well, I can say first hand that they were right.
On May 11, one of my biggest dreams became a reality: I got to see BTS perform in real-life.
Firstly, I would like to thank my older sister Christine for coming with me on this trip. Not only did she fight for these tickets of their now sold-out world tour "Love Yourself: Speak Yourself," but she also threw away her crossbody purse at the gate so we could enter. Her exact words to me once we made it through security was "You are the only one I would do this for." Multiple apologies and a purchased photo of one of the members later, we made it to our seats in much happier spirits.
But before I get into that, let me go back to the beginning.
After arriving in Chicago from Lexington, we were pretty tired from the almost six-hour trip in the car. However, despite how tired I felt, my excitement outweighed it all and gave me the energy for the day to come.
Once we arrived at our hotel, I began to prepare my outfit, makeup and concert bag, all of which reflect the color of their newest album Map of the Soul Persona. Let's just say for someone who prefers the color blue of all others, It wasn't until then did I realize that I owned a lot of pink attire.
Besides my "pinkalicious" outfit and hair to match, I also sported some enamel pins I had bought previously from fans online and of course a BT21 headband featuring RJ the alpaca. I was prepared to see the loves of my life, and probably cry off all of my makeup in the process.
Finally, around 2 pm after walking around downtown Chicago, Navy Pier and avoiding the horrendous traffic, we made it to Soldier Field stadium. With five hours to spare, we decided to get ahead of the game and buy merchandise.
Thankfully BTS' company, BigHit Entertainment, posted a diagram featuring all of the available merch and their prices prior to the concert on their Twitter. So I knew what I wanted.
I brought about $280 dollars with me on this trip, but by the time I stepped out of the merchandise line I had spent over $160 dollars on a tour shirt, a premium photo, and two Army Bombs for me and my sister.
I regret nothing; it was totally worth it.
Next, we met up with my two other friends who were underneath one of the bridges by the main gate, amidst a huge group of other ARMYs (the name given to their fans) who sought refuge from the cold and rainy weather. There we and everyone else under the bridge proceeded to dance and sing along to a playlist of BTS' songs played on a Bluetooth speaker.
As I passionately sang my heart out to their song "Mic Drop," I noticed that my sister had disappeared into the crowd. It wasn't until the song ended that my sister returned with an enamel pin.
She had bought a commemorative pin for me to remember the concert, in fact, it looked like the concert tickets itself.
Soon, the gates were open and ready to let us in. Skipping the events during the security check, we reach our seats inside the stadium: Section 441, row 13, seats 21 and 22. In just two hours, I would be seeing BTS with my own eyes.
Despite the cold, the stadium filled up to capacity and it was almost time for the concert to begin. As fans, including myself, sung along to the music videos being played on all the screens, I couldn't help but cry right there on the spot. All these emotions leading up to the concert, the amount of love, courage, hope, and happiness they have given me over the course of knowing them, everything began to flow through me.
I won't go into too much detail of the concert itself, but trust me when I say that it truly was heaven on earth.
I cannot describe the amount of happiness I felt when my eyes met them on that stage, but it was something I don't think I've ever felt before. My heart raced with every performance, with every smile, with every dance, and with every word they spoke to us.
Being there in the crowd, watching them perform "Serendipity," "Trivia: Love," and all the rest of their songs I've only heard on Spotify and YouTube, once again brought me to tears.
Call me emotional, but I'm not ashamed. I'm not ashamed for crying, screaming, and singing along with them like a lunatic.
Namjoon, Seokjin, Yoongi, Hoseok, Jimin, Taehyung, and Jungkook helped me on the path to loving myself. I never prioritized myself in my life before because it was always school, family and other worries that were more important. But they showed me that no matter how imperfect I am, my imperfections are beautiful and make me who I am and that I should love myself unconditionally just as they love their fans.
And as I waved my lightstick along with the crowd, and witnessed the beauty that is a whole stadium singing that they love themselves, I smiled to myself in glee. I have learned to love myself.
When the concert came to a bittersweet end, and they said their goodbyes as fireworks began to burst in the sky, I teared up once more. Not because they were leaving, but because I knew I would see them again real soon.
About the Contributors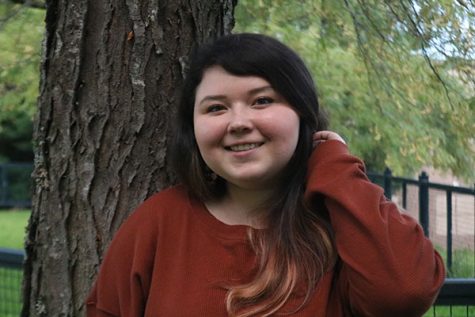 Emily Hacker, Maestro Leader
Hi! Im Emily and I am PLD Lamplighter's Maestro leader and comic artist. I manage our four broadcast teams who weekly film segments for WPLD. I also manage...