New Album from BTS Continues to Impress
The Korean Pop group from Seoul is soaring in popularity in the United States.
Even for people who are unfamiliar with K-pop, it's hard to miss the presence of BTS, aka Beyond the Scenes, due to their growing popularity both in the states and around the globe.
Since their debut in 2013, BTS have grown within the K-pop industry. However, it wasn't until the release of their EP, WINGS, that they became the first K-pop act to win a Billboard Music award, "Top Social Artist" in 2017.
According to Billboard, they topped the charts for 31 weeks in the past year, and their fans retweeted the #BTSBBMAs hashtag more than 320 million times.
"
We tried to apply new grammar and perspectives…it's very different from our previous music, technically and musically."
Released in late September, their new album Her surpassed a record breaking 1,050,000+ pre-orders without any details of the track list, contents or even the album cover. According to Vogue Magazine, this album is a musical and visual evolution of their previous themes of "young boyish love."
According to Iloen.com, fans did not have to wait too long for details as BTS posted a surprise music video of the intro song, Serendipity, onto YouTube 14 days before the release of the album.
Since its release, the group's song "DNA" is ranked No. 1 in 73 countries, and is the first K-Pop music video to breach 60 million views in a week.
Her is also the first Korean album to reach the top of the the U.S. iTunes chart, surpassing their previous album which became the highest ranked K-Pop album on the chart last year, peaking at No. 26.
Kim Namjoon, better known as Rapmonster, is the leader of BTS.
"We tried to apply new grammar and perspectives…it's very different from our previous music, technically and musically. I believe it's going to be the starting point of a second chapter of our career," said Namjoon.
The album also includes the song "Best of Me," an EDM-inspired collaboration with the Chainsmokers. While neither members are featured on the song, Chainsmokers vocalist Andrew Taggart is credited as a co-writer.
"For 'Best of Me,' they gave us several tracks and samples months ago, we and our producers picked one sample, like, 'Okay, this is fit for our next album.' So we worked on it, we sent it to them, we asked them what they think of the track we developed and got their opinions," said Namjoon.
No other Korean artists in recent memory have been able to affect the U.S. market in the way BTS has. Her also carries a deep message for fans to love themselves and in turn love the world around them.
"In this album, we cover a wide range of songs: There are high-energy ones, very hip-hop ones. It's quite diverse," said Namjoon.
"It's about boys falling in love…that kind of fluttering feeling." 
About the Contributors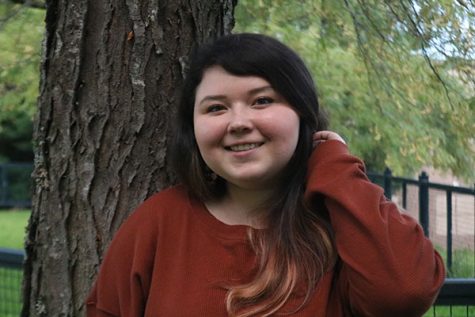 Emily Hacker, Maestro Leader
Hi! Im Emily and I am PLD Lamplighter's Maestro leader and comic artist. I manage our four broadcast teams who weekly film segments for WPLD. I also manage...