Dynamic Cast and Album Advance Black Panther
The new Marvel Studios movie Black Panther, which sold $40 million in worldwide ticket sales in its opening weekend, is an undeniable topic of discussion right now. The technologically advanced African nation of Wakanda is protected by its king who also assumes the role of the Black Panther after taking the throne. King T'Challa is played by Chadwick Boseman.
Boseman plays an extraordinarily dynamic character as the leader of his nation, an ambassador and its most powerful weapon. The internal struggle that he deals with is the desire to protect his nation and the desire to create a greater good in the world.
Letitia Wright, who plays T'Challa's sister and the tech expert, Shuri, was the biggest surprise of the film. Her performance is incredible and her attitude towards every line of dialogue adds humor and emotion to her scenes. The cast is packed with familiar faces, but Wright stands out.
The main villains, Killmonger and Ulysses Klaue, portrayed by Michael B. Jordan and Andy Serkis, set high standards with their performances. Serkis is not your generic villain; he is sinister and funny and adds to the list of things the film did right. Jordan touches on some complicated themes with an incredible amount of depth. It's easy to sympathize with Killmonger, but that quickly changes within a minute. There's calmness and purpose in the way he enters situations, making Jordan a perfect fit for the role.
There are veterans and familiar faces among the outstanding supporting cast. Forest Whitaker and Angela Bassett play members of Wakanda royalty. Lupita Nyong'o and Daniel Kaluuya remain a part of the inner circle. All of the actors are certainly worthy of the film, and they're being praised for their performance. The film is a testament to both their skills and Coogler's.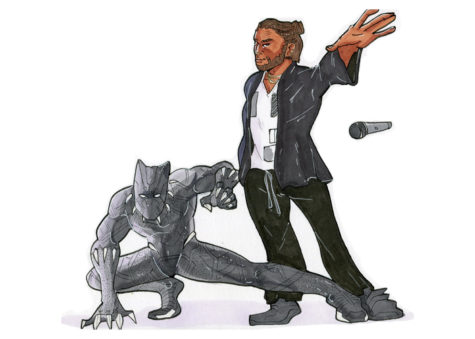 Black Panther album is Kendrick Lamar's fifth album to top the Billboard Top 200 Album Chart and still holds that position, three weeks after its release. The film's narrative is important to the design of the album and the music is both from the film and inspired by it. With an ensemble of Pan-African artists, Lamar keeps the album on track with the film. He speaks from the opposing perspectives of super-powered T'Challa and his antagonist Killmonger. The album was a perfect promotional tool. It succeeds as a body of music because of the execution and artists who part.
Even when he doesn't receive credit for the song, Lamar's voice resonates in the background, representing the consciousness of T'Challa and Killmonger. Lamar was an excellent choice to guide the album as he recruited big names such as the Weeknd, Future, 2 Chainz, SZA, and ScHoolboy Q, along with a handful of South African artists such as singers Sjava and Babes Wodumo and rappers Yugen Blakrok and Saudi.