Volleyball's Special Win for a Special Person
The Dunbar volleyball team defeated Great Crossing in a match that was more than just a game to many players.
Players were high on the excitement as they exited the court on Aug. 18, having beaten a team they'd matched up against–and lost to–in the regional playoffs last year.
"We got our revenge tonight," sophomore Isabella Haggard said.
But the sweet defeat against Great Crossing wasn't just about the revenge. It was more than that.
Players, parents, coaches, and fans worked together to create a "Mental Health Awareness" theme for the match. The Bulldogs warmed up in a plain gray T-shirt with a smiling emoji while the Dawg Pound wore green, the color for mental health awareness.
Before the game, the gym recognized a moment of silence for those affected by mental illness. On opposite sides of the court, each team organized themselves in a line with their arms around each other's backs. The fans bowed their heads.
In the silence, many became visibly emotional. As tears started to fall, it was clear there was one thing on their minds: former teammate Myra Hawley.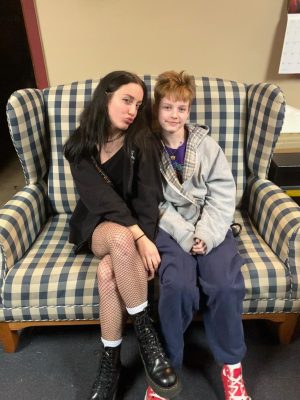 Dunbar is now 2-0, coming off of two statement wins against the 15 and 17 preseason-ranked teams. With a talented varsity roster and three standout stars, sophomore Isabella Haggard, junior Delaney Gash, and senior Ava Jackson, the Bulldogs are predicted to be a force to be reckoned with.
When asked about the biggest factor behind Thursday night's win, "Honestly… it was all Myra," senior Nyla Gaines said. "She gave us the inspiration to be playing how we are."
At 13 years old, Myra Green Hawley, a member of the team for two seasons, died by suicide on December 30, 2021. As part of both the volleyball team and Leestown's pre-engineering program, Myra was known as both a talented student and athlete, but, more importantly, those who knew her said that they remember her as an even better person. She was a sister to Samantha, Malcolm, and Clara Hawley who was also a member of the volleyball team.
In 2022 in the United States, it's reported that for every 100,000 kids aged 15-19, 11,200 die by suicide. To put this number in perspective, Lexington has a population of almost 50,000 in the 15-19-year-old age range.
Compared to 8.0 in 2000, the United States has seen a dramatic increase in suicide rates among teenagers. There are many reasons for this increase, but there are also many ways to help and get help. Experts say that it is important to report that suicide is not inevitable and to provide information about the various suicide prevention and mental health resources that may help prevent more deaths.
One such way to help is to be present for friends and family. In a study by the American Psychological Association, 40% of U.S. adults reported that they either "sometimes" or "always" feel that their relationships are not meaningful. Many reported feeling isolated. In the same study, loneliness and isolation were also identified as one of the leading causes of suicide.
At Dunbar, there are mental health specialists available on site to assist students who need resources. Ms. Dontryse Greer is a certified school social worker who is available to students through the guidance office.
Another way to impact mental health efforts is to support a business or donate to an organization that supports mental health resources and programs. For example, at the volleyball match donations were collected for the Benefit Brothers Run, whose site explains that 100% of its funds support mental health resources.
With a head full of emotions, the Bulldogs say that they plan to carry their momentum into the season with an angel behind their backs. Haggard said the team's goal this year is clear: to make it to state."
—
If you or someone you know is struggling, or in crisis, and you would like to talk or text with a suicide prevention, mental health and/or substance abuse counselor visit the Safe School's  Crisis Website or use the online reporting/prevention tool, STOP Tipline. 
Dial 988 in the US to reach the National Suicide Prevention Lifeline. Find other international suicide helplines at Befrienders Worldwide (befrienders.org).
About the Contributors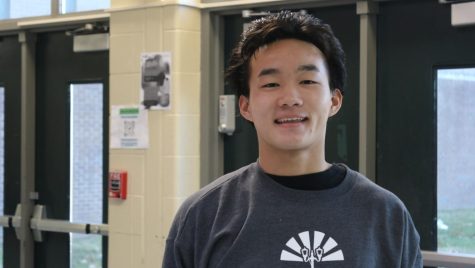 Nathan Zhu, Sports Editor
Hi, I'm Nathan! This is my second year on staff and my first year as the Sports Editor. One of my favorite things to do is watch and analyze sports, but...