PLD Baseball Players Closer Than Ever
Just like many other sports and activities, the baseball team is looking at things from a new perspective.
Throughout the school year, many players of spring sports were wondering if they were going to get to have a season this year. After KHSAA announced that spring sports would be on and modified for the 2020-2021 season, teams began making arrangements. 
For the PLD baseball team things have changed quite a bit. They now have to make sure they are socially distanced and spread apart, use hand sanitizer often, wear masks around the facility except when playing. They are also only allowing four family members per player at each game, but most importantly they were more aware of keeping their peers safe.
However, players said that this has not stopped them from fighting to reach their dreams. 
"Even though this year has been quite a change, I have still learned many things that I will take into future seasons," Harrison Simpson said. "I don't think this year is a time to take a break because of everything that has happened."  
Harrison said that he and his fellow players have worked harder this year as they have realized from last year that next year is not promised. He said that players came into this year with a new mindset ready to work harder than ever.
PLD baseball player Mason Vandyke said that they are just getting started. 
"This year has definitely been a change to what our normal years look like," he said. "We have to follow the normal covid restrictions but most importantly we have to be a family on and off the field as we have to restrict the number of people we see outside of baseball."
"
This year has shown players that we cannot win a game alone"
— Harrison Simpson
Vandyke said that not only have these players had a new mindset this year, but they have also built stronger connections with their teammates and coaches.
"This year has shown players that we cannot win a game alone," he said. "It takes all teammates and coaches to do so, leading these players to respect and build close bonds with their peers. Due to this, players have built closer bonds with their teammates."
PLD baseball player Jayden Tyree agreed.
"We have learned a lot about each other as we have gotten closer through this different season. I think we will take our friendship and awareness to next season."
About the Contributors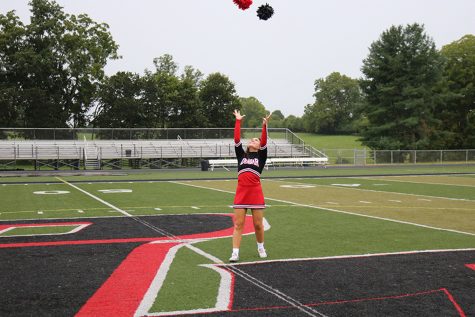 Madelyn Justice, Chief Copy Editor
Hi, my name is Madelyn Justice. I am currently a freshman, making me a first-year staff member.  I have always loved reading the news and watching broadcasts...