Should School Sports Happen?
Athletic activities are beneficial to students for many reasons, recently have been modified, shortened, or cancelled.
School sports have been around in some form or fashion as far back as the late 1700s. There have been outbreaks of a variety of different viruses and diseases since then, including smallpox, typhus, yellow fever, 1918 influenza pandemic (Spanish flu), HIV/AIDS, and cholera. With all of that considered, there has never been a year in which school sports have ever been affected as much as now.
As information about the COVID-19 pandemic was first released, many schools understandably moved to cancel the rest of the 2020 spring sports season. As we continue to receive more news about those who fall under the at-risk category for this virus, I believe it is completely safe and necessary for school sports to continue as normally as allowed.
According to The Centers for Disease Control and Prevention (CDC) "The greatest risk for severe illness from COVID-19 is among those aged 85 or older." There are zero students aged 85 or older. There are other people considered at-risk, although the majority are still 60 years of age or older, whom we have to consider. 
The CDC also states, "Most people infected with the COVID-19 virus will experience mild to moderate respiratory illness and recover without requiring special treatment."
The main thing many people are not able to accept is this: the COVID-19 pandemic will never just go away. If you are among those who fall into the at-risk category, stay home and stay safe until it has run its course through the rest of the population. 
A major thing that has to be considered when talking about school sports is students' mental health. Playing a sport can be very beneficial to students' mental health, which is even more critical during a period of social isolation. Many students thrive off of the social environment of an in-person school, something very few students have gotten since schools closed on March 13, 2020. Considering that Fayette County Superintendent Manny Caulk has announced plans to return to in-person school in January, recent and upcoming decisions and board meetings in the Fayette County School district board of education, the possibility of regaining this social aspect isn't until the start of 2021, still two and a half months away. 
The CDC released an article in July about the importance of students going back to school.  "As of July 17, 2020, the United States reported that children and adolescents under 18 years old account for under 7 percent of COVID-19 cases and less than 0.1 percent of COVID-19-related deaths." If the CDC was saying back in July that schools should open, with caution, of course, there is no reason school sports should not happen.
Needless to say, there is such a great need for school sports, this year more than any. School sports offer so much for each and every participant. Opportunities for athletic college scholarships are being lessened by the restrictions/cancellations being placed on school sports. Students are exposed to physical activity and a social environment that benefits their mental and physical health.
FCPS, it's all about kids, right?
About the Contributors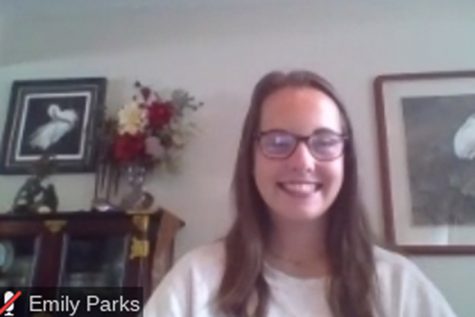 Emily Parks, Staff Reporter
My name is Emily Parks, I am a senior at Dunbar and this is my third year on staff. In the past I have worked with human relations and been the human relations...