Dunbar's Biggest Rivals and the Fight to Win
Rivalries are a common occurrence in the sports industry, and at Dunbar these include Lafayette, Frederick Douglass, and Lexington Catholic.
Lafayette
Dunbar's biggest rival in recent years has been Lafayette–and it is most intense in boys' soccer. Through the years, both Lafayette and Dunbar have won most of their season's games.
This year, when it came to the number one seed in the 43rd District soccer tournament, Lafayette and Dunbar played an intense game against each other. 
Both teams played a tough game and they did not let their guard down the entire 90-minute game. Lafayette played well, but in the end Dunbar came out on top with a 1-0 win.
In the last 5 games played against Lafayette, the scores were 1-0- Dunbar Win, 3-2- Dunbar Win, 0-1- Lafayette Win, 2-1- Dunbar Win, and 1-0- Dunbar Win.
Games between Lafayette and Dunbar soccer have always been close, with a one-goal difference in each game, and Dunbar only suffering one loss in five games. 
Lexington Catholic
Another one of our major rivals is Lexington Catholic in girls' soccer. This rivalry was most apparent in the game on Sept. 25. The game started as a normal soccer game. The teams both played very aggressively.
Student sections were throwing insults at their opposing team. Dunbar and Catholic players were yelling at referees and players throughout the first half of the game. The refs had to stop the game because of all the yelling, and it didn't resume it until after the yelling had ceased.
Though the yelling could have been a bad thing for the teams, they took it in stride and used it to add fire to the game. In this case, the rivalry seemed to help both teams make the game more aggressive and it was good for Dunbar, as we ended up winning the game.
Frederick Douglass
In football, our biggest rival is Frederick Douglass. Both teams had a winning season this year, with Dunbar having its first winning season since 2005.
Both teams have great drive and have been improving a lot, but when they get on the field, the atmosphere changes and its game time. Both teams played aggressively and had the drive to win. Both teams wanted to win badly.
About the Contributors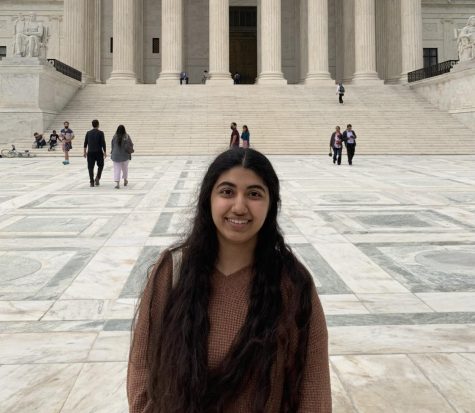 Nimi Bala, Editor-in-Chief
Hi! I'm Nimi, I'm a senior and this is my third year in Lamplighter. This year, I am one of four Editors in Chief for the program. I spent my first...