NBA Lottery Preview
As the NBA Draft combine has taken off, teams will start panning out their NBA Draft plans.
As the NBA Lottery has passed, the Pelicans are on the clock. Will Zion be enough to keep Anthony Davis in New Orleans? Can Ja Morant be the next best point guard in the league?
Pick #1 New Orleans Pelicans- Zion Williamson, Duke University:
As expected, Zion Williamson will be the first pick in the draft. His freakish athleticism, ability to put the ball on the floor, and his will to take it to the rim makes him the best overall player in this draft class. Averaging 22 points with 9 rebounds a game ensures him as the #1 pick in this draft. Although his hopes were up for him to become a Knick, teaming him with Jrue Holiday, Julius Randle and possibly Anthony Davis, the Pelicans will be the team to watch in the future.
Pick #2 Memphis Grizzlies- Ja Morant
,
Murray State University:
No shock here, Ja Morant being the 2nd best player in this class by far. His ability to make his teammates better and his athleticism can really make him very effective in the NBA, leading Murray State to their first NCAA tournament in school history. Teaming him up with young pieces Jaren Jackson Jr and Jonas Valanciunas will help lead Memphis back to the postseason.
Pick #3 New York Knicks- R.J. Barrett, Duke University:
Another player out of Duke, R.J. Barrett's game will translate very well to the NBA. His playmaking ability allows his teammates to thrive on the court, with his energy, they are able to enjoy themselves off the court. While averaging 23 points, 7 rebounds, and 4 assists, he helped lead the Blue Devils to win the ACC tournament. Putting Barrett in the Knicks system will let him be the main ball handler, allowing his teammates to feed off of him. The Knicks will have a young core to build around in the future, such as Dennis Smith Jr, Kevin Knox, and Mitchell Robinson.
Pick #4 Los Angeles Lakers- Jarrett Culver, Texas Tech University:
A very athletic, all-around player out of a Texas Tech. After leading his team to the national championship, he declared for the NBA draft 2 days after they lost. He was determined to improve his game after falling short to Virginia. He is a dedicated player, which is desperately needed to a falling apart Lakers organization. With an already very young core, the Lakers adding Culver would help LeBron lead the Lakers back to the playoffs.  
Pick #5 Cleveland Cavaliers- DeAndre Hunter, University of Virginia:
DeAndre Hunter will be going from one Cavalier team to another. Cleveland drafted guard Collin Sexton last season, and now adding Hunter could form a great defensive duo. Hunter led Virginia to the national championship game and he stole the game away from Texas Tech, after drilling back to back 3's in an overtime finish. Hunter is a versatile wing who can stretch out a defense but can also put the ball on the deck when being overplayed. DeAndre Hunter has been overlooked this entire season and is ready to show teams what he can do.
Pick #6 Phoenix Suns- Darius Garland, Vanderbilt University:
Garland was the nation's 2nd ranked point guard coming out of high school, he was a very fascinating player to watch until he got injured early on in the season, shutting down the rest of his college career. In the 5 games he played, he averaged 16 points and 4 rebounds a game. His all-around offensive game is effective when coming to leading the Suns, along with Devin Booker, to become one of the best backcourts in the league.  
Pick #7 Chicago Bulls- Coby White, University of North Carolina:
Coby White came into North Carolina as one of the most surprising freshmen in this class. The 4th ranked freshman in the ESPN top 100 turned himself into possibly the best point guard this season. White averaged 16 points along with 4 assists while shooting 35% from 3. Bulls fans have given up on starting point guard Kris Dunn, Coby White could possibly restore great point guard play in the Windy City.
Pick #8 Atlanta Hawks- Cameron Reddish, Duke University:
Being the third Duke player in the lottery, Cam Reddish had an underwhelming season as a Blue Devil. Although he was underachieving, he also has the most upside out of the spectacular freshman class. The 6'8, 215-pound freshman for Pennsylvania is expecting to do big things in the NBA. Along with Trae Young, John Collins, and potentially star Oregon freshman Bol Bol, Atlanta will have almost a full starting lineup under the age of 22, allowing them to make some noise in free agency as rookie contracts make room for bigger contract players.    
Pick #9 Washington Wizards- Jaxson Hayes, University of Texas:
Texas has a great history with creating solid NBA centers. Myles Turner and Mo Bamba, and now Jaxson Hayes. His 6'11 frame allows him to block shots and be very effective on the glass. The Washington Wizards are in desperate need for a low post player, as Dwight Howard was injured the entire season. Pairing him up with upcoming star Bradley Beal, and John Wall as he recovers from an Achilles injury will help the Wizards get back on playoff track.
Pick #10 Atlanta Hawks- Bol Bol, University of Oregon:
Bol Bol. Son of NBA legend Manute Bol. 7'4, 205 pounds, missed most of his college career due to a foot injury. When he did play, you could see glimpses of his father. Great shot blocker, rebounder and a pure jump shot. Atlanta would be the perfect fit for him. The Hawks haven't had a great center since Al Horford left for Boston 3 years ago. He along with Trae Young would create a great guard, center duo for years to come.
Pick #11 Minnesota Timberwolves- Romeo Langford, Indiana University:
The Timberwolves have needed a solid shooting guard for a long time, and Romeo Langford would be the perfect fit for them. A floor spacer who doesn't need the ball to be effective. Langford is a great catch and shoot player, but can also take it off the dribble and finish with contact. Fitting him between two great scorers in Karl Anthony-Towns and Andrew Wiggins, Romeo Langford could fit right in as the third best scorer on the team.
Pick #12 Charlotte Hornets- Rui Hachimura, University of Gonzaga:
Gonzaga Junior forward Rui Hachimura proved himself this season. He averaged 20 points and 7 rebounds in his final season at Gonzaga. His ability to work his defender in the post, effectively to get to his spot on the free throw line and his rebound dedication leads him to be a very balanced overall player. The Hornets need someone able to hustle for rebounds as they have no great rebounders. This Hornets selection will hopefully lead Kemba Walker back to Charlotte.
Pick #13 Miami Heat- P.J. Washington Jr, University of Kentucky:
P.J. Washington coming back to Kentucky another year was definitely worth it for him. He improved in every area of his game, especially 3 point shooting. His freshman year, he shot 28% from 3, the following year he shot 42%. As the best player of Kentucky, he's turned himself into a great leader and role model for the younger generations. Miami is the perfect fit for him. The Heat contain a lot of young players that have molded together as a family, PJ will fit that lifestyle perfectly.
Pick #14 Boston Celtics-  Sekou Doumbouya, France:
A 6'9, 230 pound small forward from France. His NBA comparison has been drawn to a younger version of Rudy Gay. Great defender, powerful dunker, good shooter. He recently dropped 36 points and 9 rebounds to lead France out of the Quarterfinals. He would add great length and heart to a deep Celtics bench.
About the Contributors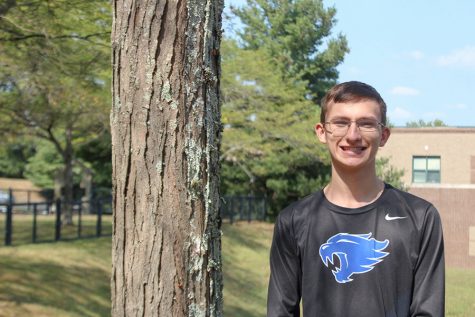 Drew Pennington, Staff Reporter
Hi, my name is Drew Pennington and I'm a senior going onto my 3rd year on staff. I got into lamplighter because of my passion of sports and began writing...