Tiger Woods' Path Back to the Top
There's nothing better than coming back from multiple injuries and winning the Masters. Especially when you have had lots of people criticizing the decisions you've made. That didn't stop one of the best to come back better than ever and win his 15th major title: Tiger Woods.
He crashed his car into a fire hydrant when driving from his home in Florida in the early hours of 27 November 2009, citing a "private matter" as responsible for the incident. Within days, speculation relating to a string of extra-marital affairs had developed into widespread revelations from mistresses.
Tiger Woods also underwent surgery on his back for a fourth time in April 2017, which by his own admission was the last throw of the dice in respect of saving a record-breaking career that had regressed towards deep turmoil. In the lead-up to that operation, a spinal fusion, he told of being unable to sit at a dinner table or play with his children due to the extent of his physical impairment.
As back injuries took hold, Woods had fallen out of the world's top 500 golfers by May 2016. Eighteen months later, he was 1,193rd. In between those junctures, in May 2017, police footage of a disorientated Woods was beamed across the world after he was arrested in Florida and charged with driving under the influence. A toxicology report showed the golfer had five drugs in his system.
So, Tiger had gone from winning 14 major titles from 2000-2008 to having 4 major back surgeries, being in a car wreck, and getting arrested and charged with driving under the influence. For the past nine years, Tiger has had a major drop in not just golfing, but in his personal life. From the start of 2018 and upon healing from the spinal fusion, Woods started to be competitive – and confident – once more.
He secured a first tournament victory in more than 5 years and the 80th as sanctioned by the PGA Tour at East Lake Atlanta last September amid memorable scenes where he was mobbed by jubilant fans on the closing hole. The next step was major glory as he returned to where it all began: Augusta National. That's when there was finally hope for Tiger Woods to become himself again.
He competed in the Masters from April 11-14 and nobody really knew what to expect from him except the fact that he was just trying to compete and do his best. In the final day of the Masters, he knew he had a shot at something incredible. It all came down to the last shot on hole 18 which he needed to only get a bogey on a par 4 to win. The final shot was hit and in as Tiger yelled to the top his lungs in excitement and joy.
Tiger thanked the crowd for the support as he walked over to his family to hug his son Charlie, his mother Kultida, his daughter Sam and his girlfriend Erica Herman to celebrate his 15th major title.
At the Green Jacket ceremony, he thanked everyone who stuck with him through his rough journey. It was a major event for him and maybe a fresh start.
About the Contributors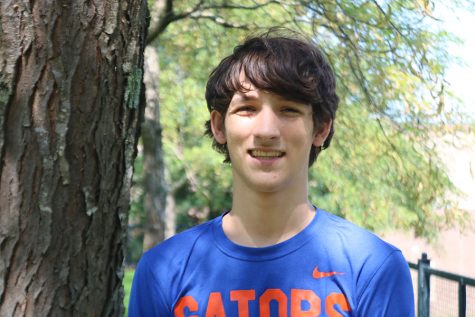 Grayson Shively, Sportswriting Editor
I have been on staff for three years, and this year I am the sportswriting editor. I play basketball for Dunbar, so sports is my passion.