Board, Stakeholders Still Searching for Answers
The Fayette County Board of Education continues to seek answers, details, and plans for an in-person instruction model.
On Sept. 28, the Fayette County Board of Education held its regularly scheduled meeting virtually with one pressing item on the agenda: the return to in-person learning. The meeting lasted over 3 ½ hours and primarily focused on a hybrid model and what was described as targeted services, although neither had a clearly outlined plan.
Among the 5.7K comments posted during the live stream of the meeting, many were statements of frustration about what was perceived as a lack of preparation. 
"This should have been the meeting before the meeting," Seth Rumford said.
"
This should have been the meeting before the meeting"
— Seth Rumford
Other comments on the live feed called the meeting confusing and disorganized.
"It is clear that the board has no info and should just call it a day," Jennifer Martin Brooks said. "Such a waste of time and parents and kids deserve better than this. This is a disaster and most unorganized meeting."
On Oct. 1, Board Member Tyler Murphy sent a letter to Superintendent Manny Caulk outlining the many questions that were left unanswered.
He responded to the frustration of stakeholders by pointing out that he had been asking for specific plans since March, and has yet to receive them. "We cannot send our children and our staff into a scenario for which we have adequately prepared in any circumstance, let alone in a pandemic."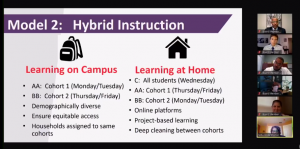 A proposed return-to-school hybrid model was said to have included input and direction form principals, teachers, and students. Board Member Tyler Murphy brought up a concerning point that many FCPS employees contacted him to say that they had never seen this model or proposal before.
In his letter to the Superintendent, he called attention to the lack of communication and input from stakeholders. "They have to know what's going on and be involved in planning because they are the ones who, ultimately, will be responsible for its success. Yes, communication is vital but it is impossible to communicate a plan if no plan exists," he said.
Although it was the original plan to start returning on Oct. 19, Superintendent Manny Caulk recommended the board to revisit the mode of instruction on Nov 2. The board will vote on the hybrid model on Oct. 26 if they have received a clearly detailed plan and protocols by that date.
"I'm committed to getting back to in-person instruction but it would be irresponsible of me to support moving forward until there's a clear plan that makes such a return safe, responsible, and sensible," he said.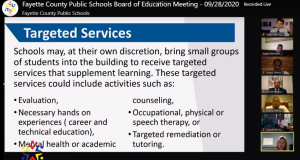 Another proposed plan for targeted services, in-person instruction for certain students, is planned to begin on Oct. 19 for elementary schools and on Nov. 2 for the secondary school phase. A specific plan has not yet been created and will be presented for board approval on Oct. 12.
One parent said that she felt that FCPS's internal and external communication shortfalls resulted in a lack of decision making. 
Murphy agreed that there needs to be more transparency.
"The only way we can communicate a plan is to have a plan, and a PowerPoint is not a plan," he said during the meeting.
"Since March, we've been asking, you know, what's the plan…we were told we have a group working on it, a committee working on it. We have staff in this district who are seeing some of this information for the first time or who haven't had that dialogue and, to me, it is very difficult to move forward when we don't have the precise details."
To address this concern, vice-chair Mr. Ray Daniels noted the lack of communication between FCPS and families and mentioned that Jefferson County Superintendent Dr. Marty Pollio holds a weekly webcast for families to ask questions and that FCPS should consider something similar.
Since the Sept. 28 meeting, Superintendent Caulk appears to have taken the advice and has created a webcast called "Talks with Caulk" which aired on Oct. 7.
However, parents are still not satisfied.
"So Manny can start a YouTube channel but can't give parents a detail description of how exactly FCPS are planning to keep our kids safe," Miana Cornell said. "You want us to fill out a survey on what we are going to go with our kids but give us very little in the way make a well-informed and conscious decision."
The upcoming planning meeting is Oct. 12 with the official Board of Education meeting on Oct. 26.
About the Contributors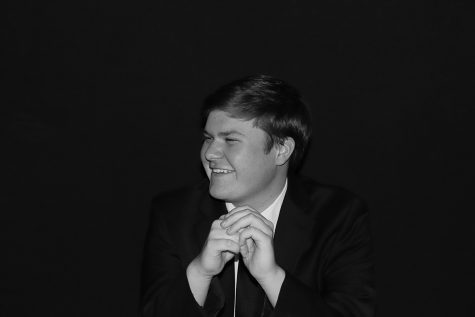 Logan Justice, Editor-in-Chief
Hi, my name is Logan Justice and this year one of the four Editors-in-Chief. This is my third year being part of PLD Lamplighter and I am a senior. I have...