We Are The Change Rally is a "Good First Step"
On Nov. 21, Dunbar's school media, PLD Lamplighter, hosted the rally to focus on rising incidents of gun violence in the community
"We are the Change" was organized by Mrs. Wendy Turner, a Dunbar English teacher and school media adviser. She said that the vision for the event was to raise awareness of violence in Lexington, to give student voices a forum, and to give attendees insight into the many community resources available to them.
"We have been organizing this since right after the tragic death of Trinity Gay," she said. "I saw that my students were mourning and needed an outlet."
While the planning for this event has been taking place since the tragic death of Trinity Gay, recent events at Tates Creek High School, in which three students were found to have guns on campus, have further established how prevalent violence has become within the Lexington community. The death of David Fletcher, who briefly attended Dunbar in 2014, was another tragic reminder of the need for dialogue in the community on gun violence and support for teenagers who are affected.
Monday's rally began with an introduction by Mrs. Turner. "Above all," she said, "this afternoon is about unity and support, and it's about letting you all have a forum for your fears and concerns. It's also about being willing to be a part of the change."
Editors-in-Chief Brooke Bledsoe and Emily Liu took the stage to explain how the idea of the rally was inspired by an article being written for the online newspaper.
"In mid-October, I found myself writing one of the hardest articles I've been assigned," said Bledsoe. "I found myself hearing stories of fellow students who have experienced loss on a level I could hardly understand. Trinity was our friend, and she was even in my prom group, but upon interviewing these students, who walk the same hallways as I do, I began to realize that violence is affecting so many of us. We decided to dig deeper into the story—not just about Trinity, but about the loss and grief affecting so many students who have lost so many of their friends and family members to senseless violence."
PLD Lamplighter students began interviewing peers about their own experiences with gun violence, and the product is a short documentary also titled, "We are the Change." Due to technological difficulties, the video wasn't able to be shown during the rally.
The first guest speaker, Anita Franklin, described how after losing her son to gun violence, she turned to organizing peace walks across the city to protest violence and to advocate for youth. She shared photos of her son, and encouraged students to "live in peace, not rest in peace."
Many students who attended said they were particularly moved by Ms. Franklin's story.
"She made me tear up with her story about her son," said senior Kaitlynn Craig.
"It made me realize how much of a change our community needs," said senior Kate Reese. "It really hit my heart hearing someone from our community who was affected so deeply by gun violence."
Gerald "Geo" Gibson, spoke next, and explained that he was exposed to acts of violence throughout his life, from an abusive step father to neighborhood gangs. He shared his experiences and inspired students to be the change, leading the auditorium in a rendition of "Lean on Me."
Senior Autumn Herriford said, "I really enjoyed Geo's speech. I think that being able to go from prison to inspirational speaker is incredible."
He led the students in a chant, "Stop the Violence, Increase the Peace."
Following Gibson, Sergeant Rashaan Berry of the Lexington Police Department, and Officer Jones and Sergeant Tracy Day, law enforcement officers at Dunbar, focused on the confidentiality of the Safety Tip Line and Text-a-Tip program.
"We move mountains to ensure your confidentiality," said Sergeant Day.
Outside the auditorium, booths with representatives from various resources in Lexington were made available to students. Groups such as SWAG, Arbor Youth Services, and the Lexington Gay-Straight Alliance were on hand sharing information about their programs and the resources they provide.
Mr. Antonio Melton and Mrs. Kristin Studle, Dunbar guidance counselors, led an activity using Post-it notes to spread positivity, Mr. Gary Egan, Dunbar Creative Writing teacher, helped with an open mic activity, and Kurt Gohde and Kremena Todorova of Transylvania University were on hand to help people take photos with the Unlearn Fear and Hate halos that are currently hanging on the front of the building.
Senior Yasuo Uno, who attended the rally, said, "I think going to the rally was a good first step toward making a change. I am glad I went."
The student members of the PLD Lamplighter editorial board hope that their example will be duplicated by other Fayette County Public Schools.
On Nov. 16, Mr. Sam Meaux held a forum with parents and other community members to discuss the issues of students carrying guns on campus. Mrs. Hazel Compton, librarian at Dunbar and parent of a Tates Creek student, was present at the forum. Mr. Meaux related some of the anti-violence programs taking place in schools and the community. Compton said Dunbar was mentioned among the different initiatives taking place in the community.
"Mr. Meaux talked about the rally and going away from a visual. After something has happened we don't want to be reactive, we want to be proactive so talking about the rally so that we can bring more awareness to the situation," said Mrs. Compton.
About the Contributors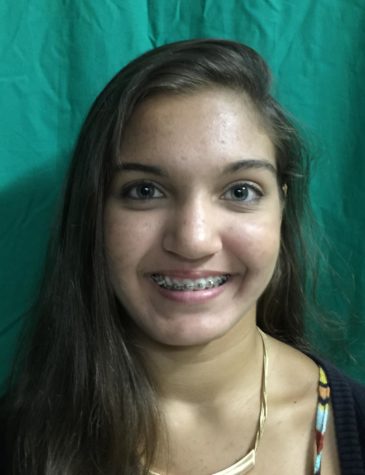 Julia Radhakrishnan, Staff Reporter
My name is Julia Radhakrishnan and I am a sophomore in MSTC. This is my first year on the Lamplighter and I am very excited to be part of such a talented...