Teacher Spotlight: Mrs. Amber Faris
Mrs. Faris is one of the most hardworking teachers at Dunbar.
For those who know her, English teacher Mrs. Amber Faris is an amazing film studies teacher and an even better English teacher. Not only does she help you succeed in the classroom, she always makes sure you're ready for whatever the world may throw at you.
For those who don't know her, here is a little more about her.
Before she decided to become a teacher, she foresaw a career in journalism.
"I started out in journalism because I really loved writing and reading. I really enjoyed the community aspect of it. Later on, I discovered the schedule was grueling at times when interviewing or covering an event and especially being under a timeline. So I decided I wanted to do teaching," said Mrs. Faris.
She decided to become a teacher mainly to be able to have and spend time with her future family, but also because she felt it suited her. She has now been a teacher here at Dunbar for 16 years.
"I decided to become a teacher because I wanted to be involved in my family and be there for my kids. I also found I was really good with teenagers. I felt my personality was suited for interacting with students, and I still got to be involved with reading and writing," she said.
There are many great aspects of being a teacher, but for Mrs. Faris, the students are the best part.
"The students, hands down are the best part of my job. Even though at times they can try my patience and drive me crazy, they keep me feeling young and energetic. I love making sure students reach their potential. I really enjoy how students interpret lessons differently based on their personalities. Overall it's very fun," she said.
As we all know, being a teacher involves a lot of things, whether it be grading, lesson planning, or being kind and compassionate, it takes a lot of hard work. It's not as easy as it looks.
"The schedule and the amount of grading that we have to do to really stay on top of our job and to be good at our job is really demanding. There's always a million things I have to do. A lot of times I have to do grading after school, at night and even on weekends," she said.
Regardless of how her day has been, Mrs. Faris always does her best when making sure students feel welcomed and listened to in the classroom. There's never a dull moment.
About the Contributors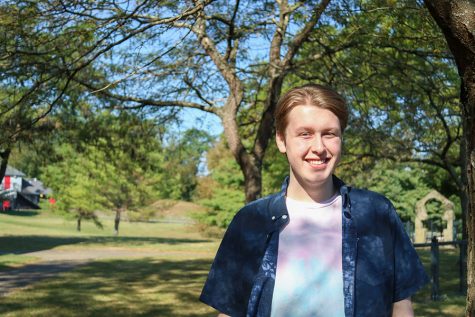 Anthony Mondelli, Chief Copy Editor
My name is Anthony Mondelli, this is my second year on the Lamplighter staff. I wouldn't want to spend my senior year any other way.

This year I'm...