Dunbar Club Educates Community on Bees
The Community Problem Solving Team completed a year-long project on the endangerment of bees.
The Community Problem Solving Team at Dunbar has been collaborating on a year-long project, B.E.E. (Broadcasting Environmental Endangerment), aimed at educating local youth about the rapidly declining bee population in Kentucky and across the world and informing them about what they can do to help. The group has created a series of educational videos discussing why bees are important and the many factors leading to bee deaths, such as global warming. These videos, in addition to paired activities, are shared once a month by Ms. Lori Smith to her first-grade class at Meadowthorpe Elementary School.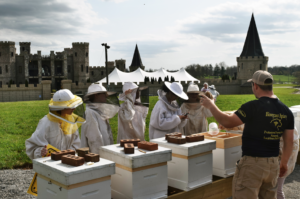 According to Dunbar junior and CMPS member Eleanor Liu, "In 2015, the total economic impact of agriculture on Kentucky's economy was $45.6 billion of output, nearly 259,000 jobs, and $6.2 billion in labor income. Since agriculture is such an integral part of our state's economy and the bee population has been in substantial decline in recent years, it is imperative, now more than ever, to educate future generations about the importance of bees and how to save them."
After students watch the monthly video, they complete an activity, which usually involves a response to the lesson. In the letters that were sent back after the first interview, numerous children expressed their surprise that bees are not only harmless to humans but beneficial. In a world where bees, a critical environmental asset, are being wiped out, it is important that the next generation understands the gravity of the situation they will inherit and begins to take action in small ways so that when they grow they may have the courage and the knowledge to institute large-scale change.
Through their lessons, the CMPS team has begun to take steps towards this future. As the team continues to create lessons, they are building up to a classroom project where the students will work together to plant a bee garden at their school. The garden will consist of native bee-friendly plants. This project is meant to both stimulate bee populations and foster an attitude of environmental preservation in the younger generation.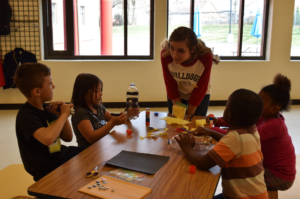 The team has already done a great deal to advance their cause, but their aspirations reach much further than nineteen students. Jin Cho, a Dunbar senior and president of Dunbar CMPS said, "Although our current efforts are focused on one classroom of students, we aim to be able to reach out to and impact broader student communities through not only our videos but also our work in local public sites. We also plan to broaden our impacts to educate local beekeepers and farmers on their role in the issue."
True to this goal, the team has created a website on which to post their lesson plans so that classrooms around the world may use the videos to teach their own students about this critical environmental crisis. They have also been in contact with the Lexington botanical gardens, working to set up a bee garden or a beehive on the premises, in order to involve older generations in the change as well.
All of this begs the question: what can you do?
"Of course there are the typical environmentally sustainable practices that everyone can follow to slow the negative environmental changes occurring that have contributed to the declining bee populations," Cho said. "As for what students can do to specifically address this issue is to support the many local and national organizations and projects with the shared goal of raising awareness and promoting safe practices. This can include buying local bee-related products, donating to various organizations, and helping others familiarize themselves to the initiatives in place."
CMPS posts updates via Snapchat, Instagram and Twitter under the username @PLDBEE.