How "Pandemic Brain" is Affecting All of Us
Since returning to in person school students are plagued with both declining motivation and worsening mental health. Now we understand that there's a good reason why.
For decades scientists have explored the impact that isolation has on the human brain. Typically, findings stem from studying prisoners in solitary confinement or rats in a lab. Never before have scientists had such a large number of subjects to observe than now–all because of the COVID-19 pandemic.
Because of the shutdowns created by the pandemic, there are an unparalleled amount of individuals who have experienced isolation. At the height of restrictions in late March and early April, more than 310 million Americans were under directives ranging from "shelter in place" to "stay at home."
So, scientists have begun studying the lingering psychological impacts that this experience has had on human brains. Many have concluded that there has been an undeniable adverse effect on mental health, but they are just now beginning to discover why that is. 
The physical manifestation of this mental toll can be found in a study by Harvard Medical School. There, scientists discovered that even individuals who were never infected with the COVID virus are experiencing neuro-inflammation that can cause fatigue, depression, and "brain fog."
"
Just living through a global pandemic is literally changing our brains
— Jandra Sutton
People on social media are sharing this study to help others understand that the mental toll of the collective experience can have physical implications.
"If you're struggling to focus, if you're struggling to get things done, if you're struggling with things like brain fog, fatigue, depression…the pandemic might be part of the reason why you're experiencing those things," author Jandra Sutton said on a recent TikTok.
"Just living through a global pandemic is literally changing our brains."
Disruption and Change
On March 13, 2020, students received notice that for the next two weeks there would be no school. These two weeks quickly turned into roughly a year at home.  During this time students were saddled with a non-traditional way of learning, NTI.  
"Nothing feels the same anymore… a lot of the stuff used to be pretty easy for me to do and just get done. I'm just thinking how did I ever do all that?" senior Chandler Zhu said. "Because everything takes me a lot longer now."
After finally adjusting and creating new routines at home, in March of 2021, students were catapulted back into in-person school which has led many to struggle with this abrupt change psychologically. 
"I think this year, in particular, has been very difficult for students returning to in-person school due to COVID," school counselor Melissa Long said, "and I think it's been a transition none of us could've prepared for."
"
I think it's been a transition none of us could've prepared for.
— Melissa Long
A study from the University of Calgary revealed that  "The prevalence of depression and anxiety symptoms during COVID-19 has doubled, compared with pre-pandemic estimates, and moderator analyses revealed that prevalence rates were higher when collected later in the pandemic, in older adolescents, and in girls."
"I've personally seen anxiety in students more than I ever have in my career because COVID has been such a stressor on so many students,"  Long said.
Although returning to school has given students the opportunity to see friends and socialize, some have abused it to act out with peers. For example, the Devious Licks Tik Tok trend.
There has also been a noticeable rise in student fights. According to Chalkbeat, educators nationwide are reporting more aggression in students due to the challenging readjustment back to in-person school. 
Students with ADHD
When struggling with mental health obstacles, it can be hard to garner the motivation to do anything–let alone school work.
Some students say they forgo doing work in favor of trying to work on themselves mentally. 
"I haven't been in school for a year so getting back into the habit [of doing work] is a little tough," sophomore Nathaniel Egan said.
And with students who have ADHD, it can be especially frustrating. In the United States, over 6.4 million students are impacted by this neurological disorder, and according to Sutton, who writes about her experience with ADHD, there is a theory that more people are being diagnosed right now.
ADDitude, an online magazine dedicated to issues affecting those diagnosed with ADHD, has multiple articles associating the pandemic with a spike in diagnoses.
"
I can't even count how many times I've heard 'Oh, you're not even trying.'
— Joshua Brooking
A parent interviewed for the article ADHD Symptoms Unmasked by the Pandemic: Diagnoses Spike Among Adults, Children  said, "We did not realize how much the routine of getting on the bus, going class to class, and daily socialization with peers and teachers was helping her ADHD."
For these students, the changes that came with the pandemic compounded their mental health struggles. The impact of this education upheaval cannot be overstated, and for students who suffer from ADHD, it is compounded by negative connotations that already stigmatize them.
"[People] think that you're lazy or you're not living up to your full potential," junior Joshua Brooking said. "I can't even count how many times I've heard 'Oh, you're not even trying."
It's OK not to be OK
Due to this increased frequency of mental illnesses in youth, schools have begun hiring mental health specialists to combat this dilemma and aid students through trying times.
"We have to make sure we're taking care of the people around us, we're looking for signs, and making sure if we see somebody struggling doing what we can to either be [a] friend or get them help, while also acknowledging the fact that we're all dealing with things and doing that for ourselves as well,"  School Psychologist Patrick Ballard said.
Others have found solace in the feeling of unity they get from this shared experience and the emphasis experts are putting on learning about how to handle symptoms post-pandemic.
"
Understanding your own emotions is more important than forcing yourself to be happy all the time.
— Julia Castillo
"I think it's really fascinating because it's also really encouraging to know that I'm not alone," Sutton said. "I think we're going to be learning about the pandemic's impact on our brains and mental health for very many years to come."
As the effects of the pandemic continue to be studied, there are going to be adjustments and changes for students, but not all of them are negative.
"I think the positive side has really been students [being] more willing to come down and open up and talk about what they're going through," school counselor Callie Donavan said.
Along with being more open to reaching out for help when needed, students have also shown that they're willing to search inward for psychological support.
"Understanding your own emotions is more important than forcing yourself to be happy all the time," sophomore Julia Castillo said.
Next Steps
The Kentucky Department of Education is tackling how to address the subject of the deteriorating mental health of students.
"[KDE] has issued guidance throughout the pandemic about ways to support students and families through Covid," chair of the Board of Education Dr. Lu Young said. "One of those guidance manuals was devoted to student mental health and social-emotional learning."
About the Contributors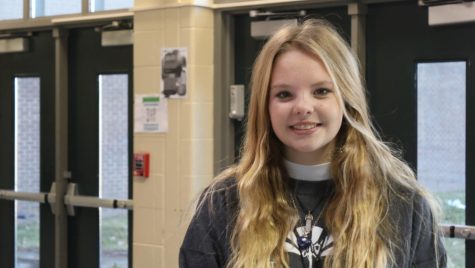 Trinity Kays, Editor-in-Chief
Hey I'm Trinity!!! Writing and journalism have always been a passion of mine. I love being able to express myself through my words especially when I sometimes...