Are Juniors Getting Enough Preparation?
COVID-19 has made it difficult for juniors to get ready for the next step in their lives.
Due to the COVID-19 pandemic shutting down in-person learning, many juniors feel they are not as prepared as they should be for their senior year and the college application process.
"I do not feel prepared for anything. I feel that even going back, I wouldn't be prepared, but if we [had] never left school I would feel better," junior Skyler Trowel said.
College and Career Readiness (CCR) is a class that students at Dunbar have every Wednesday in which they take lessons aimed towards their grade level. For juniors, CCR mainly consists of lessons about career pathways and preparation for starting the college decision process.
With CCR classes now being online, the ability to engage students in the lessons or have the majority of students even show up has become a more difficult task than in the past.
"As hard as we try to be engaging in the virtual world, there is a loss of being connected in person," college and career coach Ms. Pamela Bates said. "Relationship building between student and teacher is more difficult. The hope is they are still listening and taking in the information."
Many students have been doing their own research to start the college application process in hopes of creating a better understanding of how to go about applying.
"I am most worried about applying to colleges and picking a career path to go into. I am unsure of how to even apply to colleges at the moment," junior Karsen Milburn said. "To prepare, I am doing research on colleges I am interested in and what career options would be best for me."
Some students have reached out to mentors to help them through this process.
"Right now in college preparation terms, I've been working with Mr. Sean Smith at The College Project, who's been helping me look into different schools," junior Craig Upton said.
"
I am unsure of how to even apply to colleges at the moment."
— Karsen Milburn
Many students reported not having a strong understanding of all the details that go into making a good application.
"Aside from the basics such as good grades and test scores, I know next to nothing regarding what colleges look for in applicants, which I plan on looking more into," junior Alan Na said.
Students who participate in sports have another factor to consider when deciding where to apply for college.
"Of course I have an idea of where I want to go and what I want to major in but it could change," Upton said. "Recruiting for sports also adds another level onto that decision of where to go as well as preparing and applying."
While many juniors are left feeling confused or nervous about what decisions they have to make next, Ms. Bates and the staff at Dunbar are here to help.
"If you haven't participated in CCR in the past, but want to go back through the materials and have questions you can reach out to me or to your teachers," Ms. Bates said. "We are here to help you succeed not only academically, but in life."
About the Contributors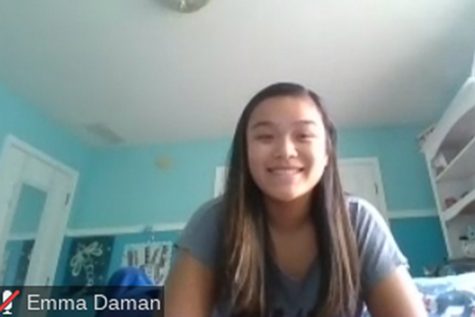 Emma Daman, Staff Reporter
My name is Emma, I am a junior and this is my third year on the Lamplighter staff.

I have always enjoyed writing more than any other subject since I...