COVID-19 Affects Final Exams
Fall semester finals will look a little different this year due to the pandemic.
The word "finals" is often a stressor for many students, but this semester is a little different than past years. Since the coronavirus pandemic has kept Fayette County students doing school online, Dunbar decided to not give exams the typical way. 
Usually, final exams are a cumulative test over everything a student has learned over the course of the semester. This semester, finals for each class will be only over the most recent unit or standards.
"This year, since the finals aren't cumulative, I don't think they will be quite as stressful as they were in the past," junior Mason Upton said.
While some are hoping for finals to not be a stressful time, there are other factors that could make the process a little more difficult than expected.
"While it may be an advantage to only be tested on recent material, other factors may interfere such as stress, exhaustion, lack of motivation, technology issues and the lack of opportunity to apply the material to lab activities," Science teacher Mrs. Angela Merrick said.
Along with finals not being cumulative, they will count for a normal summative test score instead of being 20% of the final semester grade.
"Normally finals can make or break your grade regardless of your performance all year, but this year I'm not worried about the final grade affecting my class grade since it's just another summative," senior Ben Crockett said. "I feel like I'll prepare as I would for any regular test, keeping in mind I won't be able to remediate it."
With school not taking place in-person, many are expecting to be able to prepare more for finals since they are at home most of the time.
"I think that I will have more time to study due to not having to go in person, and sports being limited," sophomore Jordan Ingram said.
Other students are actually working more at their jobs during this pandemic since they do not have to worry as much about their work schedule affecting their school schedule.
"I feel like I will have less time to study because now I have a job and I work on Wednesday, which is supposed to be a catch-up day," junior Lizzie Spedding said.
Teachers are not expecting to do as much review going into the finals as they would any other year. Since the content should be fresh in the students' minds, most teachers will be doing basic review like for any other summative test.
"
It's just another summative."
— Ben Crockett
"I will definitely not review as much, since we won't have to cover everything since day one. For the summatives this year, I have only created and used a Canvas quiz once, but the others are Google Docs that the students get a copy of, and then they type in their answers," French teacher Mrs. Jennifer McNely said. "Also, I've used the media part of Canvas so students have to record themselves in a video speaking to me and/or answering questions."
Some teachers like to use cumulative summatives as a way to measure how much their students learned throughout the year. With finals this semester not being cumulative, it will be more difficult to determine what students do and do not understand.
"I do not think I will be able to assess my student's overall learning from the semester from this one test as this is not a cumulative final. However, I can look over the previous exams from the entire semester and look at all of that data and see how they are doing," Science teacher Mr. Jesse Howell said.
During these unprecedented times, schools like Dunbar continue to make adjustments in hopes of making things easier for both teachers and students.
About the Contributors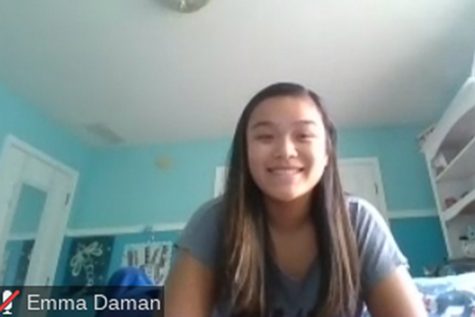 Emma Daman, Staff Reporter
My name is Emma, I am a junior and this is my third year on the Lamplighter staff.

I have always enjoyed writing more than any other subject since I...
Dylan Stern, Resident Cartoonist
Hi! I'm a senior and this is my second year as a cartoonist for lamplighter. I love all kinds of art, but my favorite medium is ink. I'm excited to...