Dunbar Class Ring Returned After 10 Years
A 2010 Dunbar graduate got a New Year's surprise when her long lost ring was found in a gas station parking lot.
Imagine it's 2010 and you are about to graduate high school. You buy a class ring from Jostens to commemorate a long four years and to serve as a reminder to never give up on yourself. Then, right before graduation, you lose your class ring in the gym.
That is exactly what happened to Dunbar alumni Vaneica Dawson. 
The class of 2010 is currently planning their 10-year reunion, and Dawson said she remembers telling a friend that she wished she still had her ring.
"I had planned on replacing it, but I never got around to it," Ms. Dawson said. "I guess it felt kind of irreplaceable."
"
I had to sit down for a minute…I was shocked…I teared up a bit
— Ms. Dawson
Then something unbelievable happened.
A woman called Dunbar saying that she'd found a Dunbar class ring in a Thornton's parking lot. She asked administrative assistant, Mrs. Kathy Ginn, if Dunbar would be able to find the person it belonged to.
Ms. Kathy Ginn asked if she could take the woman's name, but the good samaritan wished to remain anonymous–she said that she just wanted to return the ring to its rightful owner. 
The name on the ring was almost worn off, so Mrs. Ginn was able to barely read the name and tried a quick search online. Nothing came up, so she reached out to the school's registrar who searched the school database for the first name: Venecia.
PLD Registrar Michelle Ginn found phone numbers in the system from 2010 when Dawson attended Dunbar, but the numbers she called were outdated.
Trying another tactic, Mrs. Ginn sent an email to all Dunbar staff in search of someone who might have contact information for Ms. Dawson. Luckily, math teacher Mrs. Sarah Lubbe had kept in touch.
Ms. Dawson's first thought when she heard her ring was recovered was that it was a scam. But then she called Dunbar to make sure they had it, and it was waiting for her in the front office.
Dawson said it was hard for her to believe that her ring was found in a Thornton's parking lot since she remembered losing it at school.
"How on Earth did it get there?"
Last week Ms. Dawson walked through Dunbar's doors for the first time in 10 years to pick up the ring.
Associate Principal Mr. Antonio Blackman was waiting in the front office. 
"[He] knew who I was…and for a second it felt like I never left and I was 18 again," Ms. Dawson said.

"Hands down this was the best way to start my year!"
About the Contributors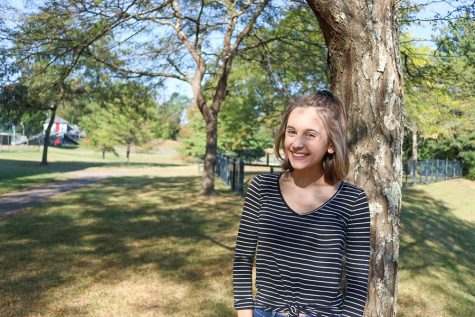 Olivia Doyle, Editor-in-Chief
My name is Olivia Doyle. This is my third year on staff and I am one of three Editors-in-Chief for Lamplighter. Last year, I was the Public Relations Manager...