New Media Arts Pathway at Dunbar
Students at Dunbar are given the option to take classes that can benefit their career in the future.
A Career Technical Education Pathway is a program in Kentucky for those who desire to join the workforce after high school as well as an opportunity for those who plan to go to college. Dunbar recently added the Media Arts pathway which allows students to become Adobe certified, something that can help students with college applications and resume.
In 2015, 39 states implemented 125 new regulations which increased state funding for CTE programs. Studies suggest that students who took part in CTE Pathways find a job faster than their peers.
"This pathway helps students now and in the future, because we do Adobe certification in all my classes, so that speaks volumes for what you can learn and what you know in the classes. There are always job opportunities so with the certification and the classwork you can get a job pretty easily in this field," Mr. Ben Herzog said.
In order to enter the pathway, students must take two or more classes within the pathway. Lamplighter falls under the Media Arts pathway along with Mr. Herzog's class. Mrs. Turner teaches Cinematography in the Lamplighter class and Mr. Herzog teaches graphic design. Students in Lamplighter are able to take an exam and get their Industry Certifications. Along with this, they get to do a media internship.
"This pathway has given me an experience I would've never gotten into before. At first, I did photography just on my phone but this really gave me the opportunity to have the proper equipment and to experiment with the different types of photography," senior Sarah Fields said.
In order to become part of this pathway, teachers have to pass the exams for the Industry Certifications from Adobe. 
"I had to contact the Kentucky Department of Education and show them that the work we do in Lamplighter actually corresponds directly with the Media Arts Pathway. They looked at our curriculum and our site and they saw all the things we do especially with our broadcast," English teacher and media adviser Mrs. Wendy Turner said.
For the Media Arts internship, students go to a site chosen by them, Mrs. Turner or Mr. Herzog.  Lamplighter is partnered with WLEX for broadcast, WUKY for radio podcast, and Herald-Leader for photography, sports writing and news writing. 
"I've had some students go to KET and Impact Photography for their internships. Some went to the Herald-Leader where they were shown around. As for the rest of the year, the interns have to do one photo shoot every week and post it to their blogs," Mr. Herzog said.
Students in the pathway will have the experience needed in college if they want to pursue a career in the field. The colleges will see that students are prepared and have prior experience with programming and certifications.
"By the time they graduate they already have all this experience, plus we're a pretty renowned program. Colleges know who we are and they know that kids who come through this program are going to be the highest level trained that a high schooler could possibly be. So they are more likely to get accepted to the programs," Mrs. Turner said.
Students who have taken a CTE pathway class are landing jobs easier because they have background knowledge that will prepare them for professional jobs in this field out of high school.
"If I ever need some extra cash, I can do freelance photography for prom pictures, things like that. It also gave me a new hobby for when I'm bored," Fields said.
About the Contributors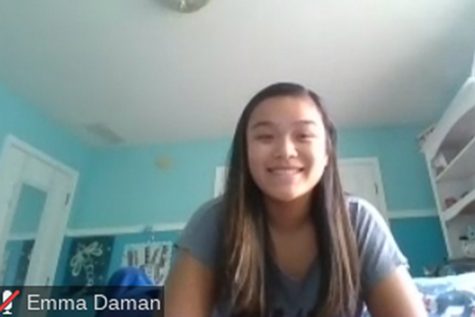 Emma Daman, Staff Reporter
My name is Emma, I am a junior and this is my third year on the Lamplighter staff.

I have always enjoyed writing more than any other subject since I...