Lil Uzi Vert's Eternal Atake
After waiting three years, Uzi fans finally got the album they waited so long for.
Lil Uzi Vert has finally released his long awaited album coming as a surprise to many of his fans including myself, "Eternal Atake," his follow up collection to Luv Is Rage 2. Waiting over three years to release the album, there was a lot of talks whether he was done with rap as a whole.
After dropping a trailer for the album earlier this week, it was still unclear when he would put it out. While most new music appears online at midnight, Uzi released his album later in the morning most likely to stand out amongst the crowd of other releases.
Eternal Atake being his second proper album, though he has released many other mixtapes and collections, features 18 tracks; two of which previewed the album before its eventual release. Those tracks being "That way" and "Futsal Shuffle 2020"  which gained a lot of media coverage and praise as they both climbed high in the hot 100. Also, he only had two collaborations in the entire album.
My personal rating for that album, after listening through it multiple times, would be a seven out of ten. I don't think it lived up to the hype of Luv is Rage 2, but it still had a lot of great songs. It is full of energy with each song being exhilarating to its end. This album is meant to put on full blast in your car or shred the speakers at a party, it gets you pumped.
My favorite songs on the album are "Celebration Station" and "Chrome Heart Tags."
"Celebration Station" is very upbeat and a song you can really get 'turnt' up to. Uzi was definitely hitting his famous shoulder rolls when he was making this one. On the other hand, "Chrome Heart Tags" is a little slower and more of a song that you vibe to.
Although a lot of fans were upset when they found out there was no Playboi Carti feature but rather a diss track against him. Up until recently, the two rappers were great friends and always made music together; as seen in their popular collaboration tracks like "wokeuplikethis" and "lookin."
Their projects always got a crazy amount of hype and were often the highlight of their respected albums.
Unfortunately though, In his third track "Silly Watch" Uzi took a subliminal shot at Carti. In the song, he clearly raps the lyrics, "I'm with the boys, and no, we do not Milly Rock." Many assume this is a reference to Carti's 2017 hit, "Magnolia" in which he repeats the lyric, "in New York, I Milly rock." Showing that there might be some existing beef between the two rappers.
Eternal Atake beat out all the other competition and topped the all-genre Billboard for a week; it was his second chart-topped ever. To do this , he had to do better than the likes of Lauv, Jhene Aiko and Megan thee Stallion, who all just dropped new albums. Also don't forget Lil baby's album, "my turn" which previously held the top charts.
The only reason Eternal Atake isn't at the top is because he also released Luv vs. The World 2 following up one of his original mixtapes. It featured a lot of his leaked hits such as "Lotus," "Kobe Rollie," and "Myron." They definitely lived up to the hype and are all very good songs, I suggest you give both albums a listen.
About the Contributors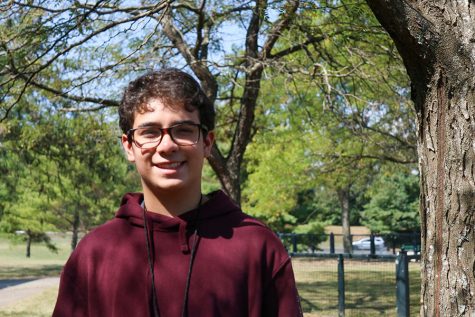 Winston Abedi, Staff Reporter
My name is Winston Abedi, I'm a sophomore at Paul Laurence Dunbar and this is my first year participating in Lamplighter.

I'm looking forward to contributing...