Review: A Beautiful Day in the Neighborhood
A biographical drama featuring America's favorite cardigan wearing "Mister Rogers" hit theaters in late November.
Leaving the theater, I felt a rollercoaster of emotions. The hard-hitting subject matter discussed throughout the movie left me feeling overwhelmed, but showed that even in a world full of darkness, there are beckons of hope and light. 
Mr. Fred Rogers was a beckon of hope and enlightenment for children and adults all around the world. His radically kind and compassionate views towards all people pushed viewers of his show Mister Rogers Neighborhood to be more kind and show more love to everyone. 
Scenes throughout the movie showed just how powerful Mister Rogers was to children and adults alike. His ability to talk to everyone and be kind to everyone was as genuine and real as it comes. 
A Beautiful Day in the Neighborhood follows Lloyd Vogel (played by Matthew Rhys), an investigative journalist tasked to complete a profile on Mr. Fred Rogers. Vogel approaches the interview of Mr. Rogers with uncertainty, as he finds it hard to fathom that anyone can be that good-natured. Rogers' true kindness, compassion, and decency soon lead Llyod to shed his rugged exterior and reconcile with his own painful past. 
The movie focused on Lloyd Vogel's estranged relationship with his father. The movie follows this plotline, with Mister Rogers helping Vogel realized that compassion and forgiveness are more important than one may perceive them to be. 
The moral of the movie focuses ultimately on forgiveness and compassion. It is a movie that made me think deeply about myself and situations friends and family of mine have endured. 
Tom Hanks did a phenomenal job of portraying the wholesome Fred Rogers, encompassing his calm, laid-back demeanor. There could not have been a more perfect person to play this role. With his cardigan sweaters' and thoughtful attitude, he looked and felt like the perfect depiction of Mister Rogers.
The film left me with a feeling of hope. A hope that despite the craziness that life unfolds and the unfair things that happen to us all, it is possible to move on. It is possible to forgive; you just have to be willing to do so.
About the Contributors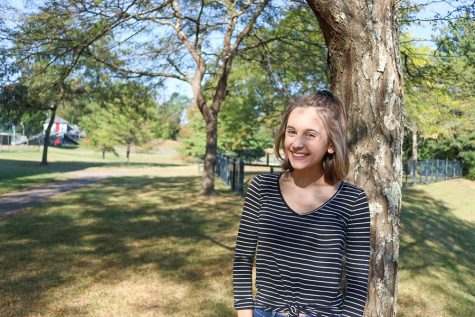 Olivia Doyle, Editor-in-Chief
My name is Olivia Doyle. This is my third year on staff and I am one of three Editors-in-Chief for Lamplighter. Last year, I was the Public Relations Manager...