Podcasts More Popular Than Ever
Teens are now more interested in podcasts than they've ever been.
In the past couple of years, podcasts have become more and more popular, but why? Is it the drive for a good story without the eagerness to read, or just the status quo? Podcasts have become so popular that they have even been incorporated into the English curriculum at Dunbar. 
Podcasts are said to be the daughter of National Public Radio (NPR). In many ways, they are just a recorded version of a radio show. Podcasts have many different genres, from comedy to crime. There seems to be a podcast out there for everyone.
When it comes to revamping, podcasts have given NPR new light. More people than ever are listening to podcasts. According to Convince&Convert, "podcast consumers listen to podcasts more than any other type of audio."
This is important to podcasters across the country due to the fact that it shows people are still interested in journalism.
Torch, a podcast from PLD Lamplighter was awarded Multimedia Story of the Year by the National Scholastic Press Association in 2015.
Season One, narrated by Pamela Stravitz, one of the 2015 Editors-in-Chief, is a solo-cast podcast. It is mainly her with occasional featured guests.
Stravitz's season focused on car wrecks and crashes involving students from PLD. She divulges not just facts, but also the emotions of people in and out of the car. 
PLD Lamplighter still continues to make podcasts. Staff reporters Olivia Wells and Elizabeth Fitzpatrick are currently working on a podcast reviewing a Louis Capaldi album. Wells explains that podcasts give listeners a more personal aspect compared to someone reading a book or article. 
"You can write something and never say it out loud, but with a podcast, you say what you would have written," Fitzpatrick said.
This makes the narrators have a personal connection with the audience. Other's podcasts are unscripted just like a conversation would be.
Podcasts also give the ability to insert real and natural sounds such as song or conversation from an interviewee. It gives the listener a unique perspective on a story.
A big reason that podcasts became more popular is advancements in technology. Podcasts are available from virtually anything with internet access. They can be found on most phones from apps like Apple Podcast, Pandora, iHeartRadio, and Spotify. Since so many people listen to music using these apps, they have become more curious to see what podcasts are all about.
Sophomores at Dunbar now analyze the Serial podcast as part of their curriculum.
"It has now been incorporated into English classrooms because, at the sophomore level, we're able to take these longer stories and give [students] nuances that a newspaper article can't give," English teacher Mr. Janbakhsh said.
From a new perspective of NPR storytelling to amateur productions, it seems like podcasts are here to stay.
About the Contributors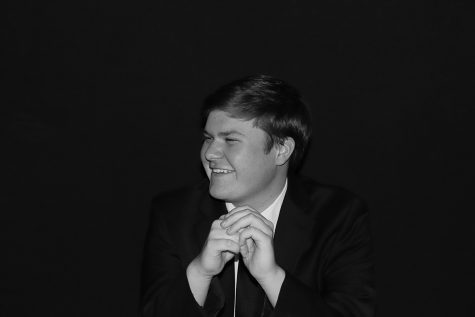 Logan Justice, Editor-in-Chief
Hi, my name is Logan Justice and this year one of the four Editors-in-Chief. This is my third year being part of PLD Lamplighter and I am a senior. I have...