Painting Classes Honor School's Unsung Heroes
Mrs. Jamie Preptit assigned her students a unique project to acknowledge school employees that don't often get the spotlight.
Students in PLD's two painting classes were recently given a unique task: they were asked to nominate a school employee who makes an impact on the building, but who may not always be recognized for their efforts. Then, they were asked to paint a giant portrait of that person.
Nominations from both classes were tallied, and the winners were School Resource Officer Myron Pedroche and Head Custodian Mr. Steve Coofer.
Art teacher Mrs. Jamie Preptit is the mastermind behind the project. She took photographs of both men using lighting that would create shadows–the objective of her lesson.
She then drew a grid on each photograph that was sectioned off to students; each had a specific square to paint. 
"Learning how to see and mix value is an essential part of creating a successful painting," Mrs. Preptit said. "The traditional way to learn color mixing is to use a scale or a grid."
 She said that idea came from a similar assignment that one of her college professors did using charcoal. 
"Students tire quickly of repeatedly painting grids to learn color theory," Mrs. Preptit said. "The large portraits are a refreshing way to cover mixing black and white without using a color grid."
Students who worked on the project said that they have had fun working on the projects because they had a chance to meet these two men that they otherwise might not have met.
"I'm new here, but Officer Pedroche seems nice," junior Carolina Burn said.
Some students also said that they enjoyed creating a sense of community.
Many people asked 'who is this?' when looking at the finished pieces. It gave everyone a chance to get to know other school employees.
As to what will happen to the murals, it is still up in the air. After speaking with Mrs. Preptit, she believes the murals will go home with Officer Pedroche and Mr. Coofer after being displayed at school.
About the Contributors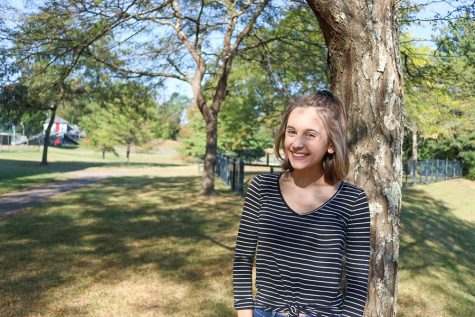 Olivia Doyle, Editor-in-Chief
My name is Olivia Doyle. This is my third year on staff and I am one of three Editors-in-Chief for Lamplighter. Last year, I was the Public Relations Manager...