A 2019 Met Gala Play-by-Play
With numerous designers and celebs, the event never disappoints.
The Met Gala is the annual fundraiser for the Metropolitan Museum of Art's Costume Institute. This event not only kicks off the opening of the exhibit but it also acts as fashion's biggest day. Being the Met Gala's biggest fan, I always watch the event and I always come up with a few interesting thoughts. I decided that this year I would finally keep a diary of my reactions. So with my face mask on and my tea piping hot, here were my thoughts about the 2019 Met Gala as it occurred.
6:00 – Lady Gaga is not here to mess around let me tell you. Her look is all sorts of chaos, but it is the kind of chaotic energy that this event needs. She is a star, plain and simple.
6:13 – If you looked up "camp fashion" (this year's theme) in the Webster Dictionary, Laverne Cox will be the definition.
6:20 – Regina Hall, with the help of Gucci, is going to single-handedly save the bees. With her hair matching the sleeves, she is also going to revive pink this spring.
6: 23 – With the Gucci being one of the main sponsors of the event, their designs have been making a huge splash on the pink carpet.
6: 29 – Celine Dion's headpiece looks like the pictures of the people from the Midwest when they went outside during the record-breaking winter freeze. However, according to my mom she looks very Cher circa 1982.
6: 30 – Did all of the celebrities meet at a bee farm to discuss what "camp" means? Because a) Karlie Kloss is the second bee outfit I have seen so far and b) no one is super sure about what "camp" means. Do any of us though?
6: 32 – Mindy Kaling's platinum blonde wig makes me snatch my own.
6: 36 – thinking back on Anna Wintour's feather sleeves, I just not sure if anyone has seen the queen's arms in a decade. I mean she wore long sleeves to the Australian open when the country was experiencing record high temperatures.
6: 54 – Devil wears Prada? No, Yara Shahidi wears Prada and rocks it.
7:15 – If I ever had to come up with an idea of what a campy version of a 1920s flapper is, it would be what Constance Wu wore to the 2019 Met Gala.
7:20 – Staying true to herself, Alessia Cara wore the best platform sneakers to the Met Gala while rocking a huge gown.
7:20 – It looks like that to most celebrities, including the male ones, the bigger the better is what camp means.
7:31 – While most have come out as like an 80's version of campy, Elle Fanning has come out like the 70's version of camp via New York City which included: big hair, flowering sleeves, and air fresheners hanging off of her nails.
7:32 – Jared Leto carrying a replica of his own head seems a little unoriginal as Jaden Smith had carried his cut-off dreads the entire night of the 2017 Met Gala.
7:35 – Lili Reinhart and Cole Sprouse have officially taken down Blake Lively and Ryan Reynolds as the most fashionable couple in show business.
7:35 – Now that I am thinking about my previous thought, maybe the most fashionable couple is Jared Leto and Jared Leto replica head.
7:41 – Katy Perry is lit!
7:44 – The first platinum blonde wig I saw was exciting and surprising, but by the time Kacey Musgraves has come around, I am kind of tired of them. However, I do love her hairdryer purse.
7:46 – Gigi Hadid looks like the coolest martian, in the best way possible. However, Michael Kors spray tan makes him look a like a bronzed tangerine.
7: 56 – I am pretty sure that Bella Hadid's pixie haircut was just a wig, but she should legitimately cut her hair like that, immediately. Also, she just stay in Moschino 24/7 because she looks brilliant in it.
7:59 – Moschino's royal jewel theme are making queens out of icons tonight. I love Kate Middleton as much as the next girl, but Gwen Stefani (sporting the red lipstick of course) is definitely showing her up.
8:06 – I hope there are paramedics on the scene at the Met Gala because there is no way that Kim Kardashian doesn't pass out at least once from not being able to breath.
8: 18 – Although Cole Sprouse and Lili Reinhart are the most fashionable couple, JLO and AROD are an extremely close second.
8:20 – Ciara or Diana Ross? It is a major hair moment.
8:28 – Kendall looks like the more fashionable cousin of Big Bird, which is a big compliment.
8:30 – In the never-ending Kendall/Kylie debate, Kylie has definitely won this round at the Met Gala.
8:37 – I am really hoping that that Cara Delevingne and Elle Fanning take a picture sometime tonight because of their cuisine themed headpieces.
8:43 – Cardi B's train, if pumped up a bit more, could be the best bouncy house I could ever ask for.
8: 50 – I do like that Zendaya had her dress light up on the red carpet, but sorry Claire Danes did it first.
8:56 – I know it would be very camp, but I was kind of hoping that Joe and Sophie Jonas would wear what they wore to their secret Vegas wedding.
8:57 – Lupita gave a proper ending to the Met Gala, that's all I have to say about her.
I truly believe that tonight's Met Gala was the best Met Gala ever. As the theme of camp truly pushed the boundary, the celebrities in attendance pushed it even more with their amazing outfits.
About the Contributors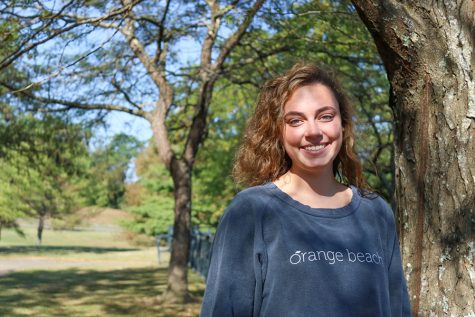 Eleanor Davis, Editor-in-Chief
I'm Eleanor Davis and I am a Senior at Dunbar. This year marks my third year on staff and I am fortunate enough to be one of the Editors-in-Chief for Lamplighter....