Colleges and their plans on playing during this Pandemic
With Fall approaching, so does Kentucky colleges for students, and for some students the beginning of their sports. But during this pandemic, college athletes have had to take extra steps to get to play another year. 
Nearly six months ago, the decision of sports being allowed to play came into discussion. With the pandemic on its first surge in the United States, and spreading fast, quick decisions were made to stop the spread of the virus. This includes college sports, at first not letting fans watch, but then taking the extra step, and completely canceling all spring sports by the NCAA.
"NCAA President Mark Emmert and the Board of Governors canceled the Division I men's and women's basketball tournaments as well as all remaining winter and spring NCAA Championships," according to the National Collegiate Athletic Association, or NCAA "This decision is based on the evolving COVID-19 public threat."
Now in the present day, where the United States has dealt with the virus for months, and have made precautions to stop the spread of it, colleges have to do the same for the upcoming school year and fall sports. But with sports, trying to stop the spread while also letting college athletes play, can be a situation where one affects the other negatively. That is why with the guidance of the NCAA and its members, Colleges have worked to take precautions even for sports, but with conditions involved.
"Our decisions are [placed] on the health and safety of college-athletes," President of the NCAA Mark Emmert said. "These policies ensure they can make thoughtful, informed decisions about playing this fall."
With these guidelines placed, student-athletes now have a set of steps to take to prevent the spread of coronavirus. But in the event that an athlete still doesn't feel safe, they can simply state they wish to opt-out of the season. And though many are afraid of losing their college education due to leaving this season, the NCAA guidelines state that they are allowed to continue their education while also deciding to not play this year.
"All student-athletes must be allowed to opt-out of participation due to concerns about contracting COVID-19," according to the NCAA. "If a college athlete chooses to opt-out, that individual's athletics scholarship commitment must be honored by the college or university."
With regulations in place for fall sports to stop the spread of the coronavirus, and options are given to athletes if they wish to not play, fall sports playing this year seems to be a reality, assuming enough athletes decide to this year. Unfortunately, not every college in Kentucky sees this as good enough for protecting their students. Specifically, Kentucky colleges Centre College and Kentucky State University, who have decided to not have fall sports this end of the year.
"I can confirm the current global COVID-19 pandemic is fraught with multiple fault lines," Kentucky State University President M. Christopher Brown said. "There are significant tensions operating in every effort to balance the science surrounding the current health crisis and the campus' traditional activities and operations."
With regulations set and back up plans made, the time for fall and its sports are here for colleges, and the games shall begin. Although the risk of the coronavirus will be lingering, fall sports have found a way to allow their athletes to compete through it. And in the domain of Dunbar, with its own fall sports and guidelines set, college athletes and high school athletes will both be experiencing the different ways of playing their sports, but nonetheless, playing the sports they love. 
About the Contributors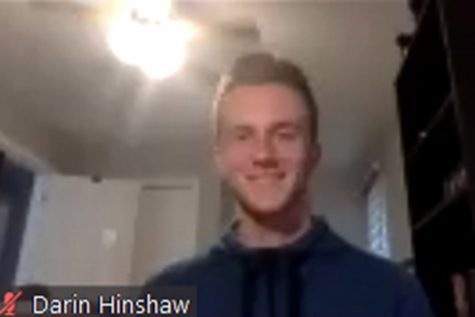 Darin Hinshaw, Staff Reporter
I am a senior at Dunbar, and this is my first year as a staff reporter. I'm excited to be part of journalism at Dunbar and get to discuss ideas, thoughts,...