Professional Women Hockey Players Boycott Pro Leagues
Recently many women's hockey players have began to boycott leagues to gain better wages and healthcare.
Women's professional hockey players, such as USA stars Hilary Knight and Kendall Coyne Schofield, and Canada's Marie Philip-Poulin have joined over 300 other women hockey players in the boycott against pro leagues. They have decided to not play in any professional hockey leagues.
Players have released on social media this past weekend, "Having no health insurance and making as low as two thousand dollars a season means players can't adequately train and prepare to play at the highest level." Players believe they can't sustain a living with their current wages.
They want the NHL to support a woman's league and hope their announcement will force the NHL to act.
There's only one women's hockey league remaining in North America, the NWHL (National Women's Hockey League). The NWHL has stated that they respect the decision of the players and support them, and will still start the season in October.
Also, players who continue to play will receive increased salaries, 50-50 split from league level sponsorship and media rights.
Following the 2018-2019 season, fellow women's league CWHL (Canadian Women's Hockey League) had collapsed. This has cast doubt on the ability of these women leagues to create revenue and maintain a stable amount of viewers.
Before the CWHL ceased, there was a lot of talk on merging the two different leagues. It would have been easier to support one larger league rather than too, also, there was a bigger talent pool.
NHL commissioner, Gary Bettman chose not to intervene by trying to join the leagues. He didn't want to be seen choosing sides.
One would have had to been used as the foundation, forcing others to move operations and change locations. Instead, the NHL attempted to fix the problem by giving the leagues annual contributions of $50,000 each.
After the CWHL folded, all of the money was transferred to the NWHL.
This money allowed the NWHL to expand, planning to create franchises in both Montreal and Toronto. Their last expansion team, the Minnesota Whitecaps, sold out all home games; the arena seated 1200.
The league was growing and the future is looking bright. They also recorded the largest crowd for the NWHL All-Star game with 6,200 attendees and more than a million viewers on Twitter.  Though the league has definitely shown growth, most players have still chosen to sit-out during the upcoming season.
Meghan Duggan, an American women's ice hockey player who participated in the 2010, 2014 and 2018 winter Olympics, where she was the captain on their bout to a gold medal.
Duggan refers to the boycott, added, "It's scary, it's uncertain, it can be uncomfortable. But that's a great thing, and that's a good thing, and it's awesome and exciting at the same time. It's life-changing and trailblazing, and for the greatest cause."
About the Contributors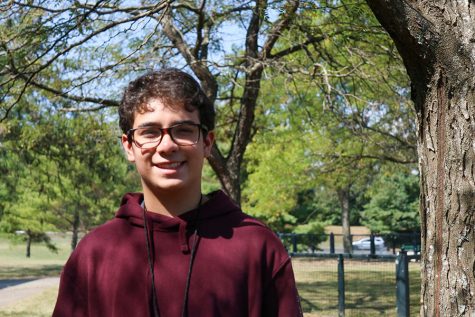 Winston Abedi, Staff Reporter
My name is Winston Abedi, I'm a sophomore at Paul Laurence Dunbar and this is my first year participating in Lamplighter.

I'm looking forward to contributing...