My Top 5 Netflix Movies
Staff Reporter Winston Abedi lists out five films on Netlfix that he enjoys.
Miracle – The true story of Herb Brooks played by Kurt Russell and the United States Ice Hockey team. Battling adversity and defeating all odds, carrying the pride of a nation against the seeming invincible Russians. During the height of the cold war, it was more than just a hockey game. The Soviets, who had won the past four gold medals and defeated an assembled team of National All-Stars, were known as a hockey powerhouse. The U.S team was not composed of professional players but a bunch of college kids, that Herb Brooks molded into a team that went on to win gold that year. It is an inspiring movie that shows how hard work and the value of teamwork can prove to pay-off in the end.
Black Panther – In the wake of his fathers untimely death, T'Challa, the new rightful heir to the throne must steer his nation Wakanda into a era of peace. He is challenged for the throne by tribes within his own nation, so he must team up with help of C.I.A agent Everett K. Ross, and fellow warriors to guide Wakanda out of an impending World War. This movie was both very action-packed and funny, showcasing T'Challa's incredible powers, including super speed and super senses and his comedic side. On top of it being very entertaining, it was also historic. Chadwick Boseman was cast as Marvel's first black lead and the film was the first marvel movie with a majority black cast.
 Southpaw – Billy Hope played by Jake Gyllenhaal, is the undisputed light-heavyweight boxing champion of the world. With a undefeated record of 43 games, Hope is regarded as one of the greatest boxers ever. In his prime, an unexpected tragedy throws his life astray and he loses everything important to him, including his career. To restore life to what it was, Billy must get his life back on track, getting back in the ring but this time starting from the bottom. It has great fighting scenes and how all boxing/fighting movies should have a great training montage. This movie is a great story, showing how if you want something in life you must fight for it and never give up.
 Breakfast Club –  A classic story of five students with nothing in common, sharing a Saturday detention together at their school library. At the beginning of the day, the students mostly showed resentment towards each other but as they learned they had more in common with each other near the end of the detention period they became friends. To the outside world they were simply a Brain, an Athlete, a Basket Case, a Princess, and a Criminal, but to each other, they would always be friends putting aside each others differences. It is very entertaining and shows what rue friendship is all about.
 Thor Ragnarok – Thor is imprisoned on the planet Sakaar and must race against time to get back home to prevent the destruction of Asgard. Before getting to leave, Thor must face an old friend in battle first, one of the most awaited fights. Ragnarok, the destruction his homeland and Asgardian civilization, by the hands of Hela. The movie is super entertaining with amazing fighting scenes and in my opinion the funniest of all Avenger movies.
About the Contributors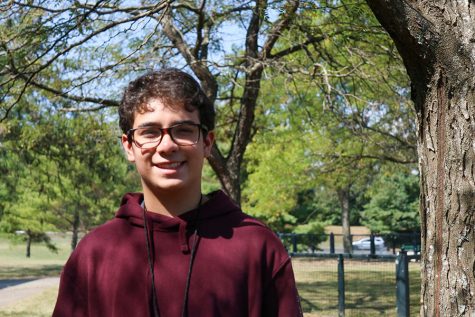 Winston Abedi, Staff Reporter
My name is Winston Abedi, I'm a sophomore at Paul Laurence Dunbar and this is my first year participating in Lamplighter.

I'm looking forward to contributing...