National Day of Silence on April 17
Dunbar GSA encourages students to participate to show support for LGBT peers
The Dunbar Gay Straight Alliance will be participating in the National Day of Silence on April 17. This is a yearly event that club members, as well as non-members, participant in to show support against LGBT bullying.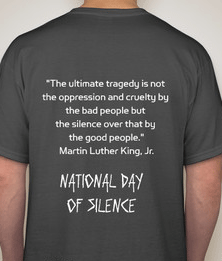 Mrs. Amber Faris, the club sponsor, explained that students who participate in the event vow to stay silent for the entire day as a way to protest the suffering in silence that most LGBT students face. They will have a card that explains to others why they are not speaking.
Shirts designed by the club can be purchased for participants to wear that day. To reserve a shirt, please contact Mrs. Faris. The cost is $10, and all proceeds go into a fund to give financial assistance to students who cannot afford to attend Pride Prom, an LGBT-friendly prom hosted annually by the Lexington Gay-Straight Alliance.