Girls' Basketball Wins a Close One on Senior Night
The team won the Feb. 17 game against Madison Central, 56-55.
Before their final game on their home court, two seniors on the girls' basketball team, Autumn Herriford and Symone Franklin, were recognized by their coaches.
Both teams had a slow start as they each played great defense, trying to get the upper hand on the offensive end. The Bulldogs capitalized on some of the turnovers to turn into points giving them a 2 point lead at the end of 1st quarter. The Bulldogs started pulling ahead in the 2nd quarter up 18-11 but let Madison Central battle back into the game to only be down 5 at the half.
Central started out the half strong in the second half bringing the deficit down to one point before the Bulldogs had to call a timeout. The teams both started playing a faster pace game and traded buckets with each other with Central taking a 3 point lead into the 4th.
The team kept the same fast pace game going at the start of the fourth as Madison Central started using their size against the Bulldogs to get an advantage in the paint while the Bulldogs used their speed to get past Madison Central for the easy scores.
The Bulldogs tried applying the pressure by pressing the Indians but it wasn't effective as they broke down the defense. The 'Dogs were down late in the game with less than two minutes to go,  Mashayla Cecil hit two 3's to tie the game up at 53.
After the missed free throw on the and one layup by the Indians, the Bulldogs drove down the court and scored to tie the game again at 55. With three seconds left, Central fouled Peyton Humphries and sent her to the free throw line missing one and hitting the next to put the Bulldogs in the lead.
"I felt a lot more calm during the 2nd. I pictured nobody in the room and I didn't think about it," Humphries said.
Madison Central had one last chance to drive down the court and score. They brought the ball up the court and got a shot off right before the buzzer and hit the back of the rim, ending the game in a Bulldogs' victory.
"[It's] bittersweet. Of course I'm going to miss all my teammates and playing games and being in this atmosphere but all good things come to an end," said Cecil.
The 43rd District tournament will begin on Feb. 22 at Lexington Catholic against the winner of the match-up between Lexington Christian and Tates Creek on Feb. 20. The Championship game will be on Feb. 24.
About the Contributors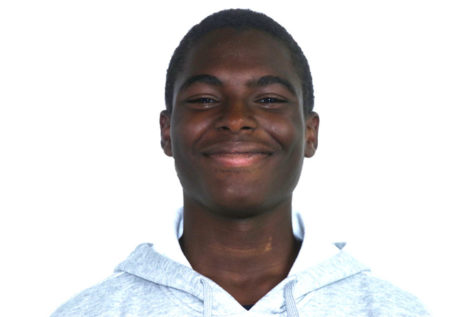 Kaden Gaylord, Sports Editor
Kaden is 5'4" but his ego is 6'8".