No. 2 Dunbar rolls over No. 6 Lafayette in 31 point victory
The Bulldogs are continuing their hot-streak as they improve to (18-4).
Was it a jersey out, or a blow-out? Well last night it was both. On Jan. 26, 2016, the Dunbar Dawg Pound was packed and ready to cheer on their home team sporting different team jerseys – one of the numerous themes the student section has been known for this year.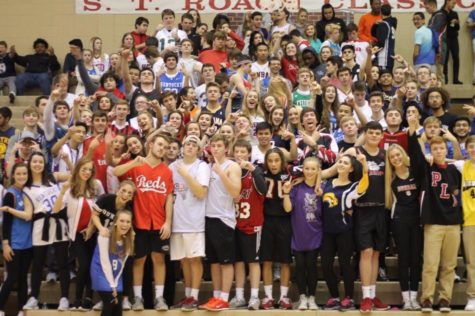 Continuing on with the basketball side of things, the Dunbar Bulldogs keep making statements and flexing for the on-looking 11th region opponents. Dunbar, who is ranked #2 in the state, had a cake walk to victory Tuesday night in a 73-42 rout of #6 ranked Lafayette.
On Tuesday, Dec.8th, Dunbar junior star Taveion Hollingsworth dropped 40 points on Lafayette. Flash forward to January 26, he led the way yet again, this time with a team-high 25 (9-14 fg). Also carrying the load was All-State shooting guard Darius Williams, who was forced to exit exited the game in the 3rd quarter due to cramps, and crafty point guard Jordan Lewis. Williams totaled 15 points on 7-12 shooting, while Lewis totaled six points and nine assists. Dontell Brown was a force on the boards while adding eight points.
"
Before the game we know they're hyped to play us, so we have to be ready"
— Tavieon Hollingsworth
"We had to come in the game and do what we had to do," Hollingsworth said. " We know every team we play is coming out to get us because of our ranking. Before the game we know they're hyped to play us, so we have to be ready."
Lafayette had a poor shooting night shooting (2-15) behind the arc. With their all-city star Ross Jenkins accounting for a season low three points after finding himself in early foul trouble, the Generals had to look to others. Sharpshooter Harrison Lane only totaled five points, while senior forward Watkins and junior guard Wharton came off the bench to combine for 21 points.
When asked what the biggest key to blowing out teams was, senior captain Justin Kelley responded, "Focus."
The Bulldogs saw an array of scoring as 9 different players tallied points, which has been essential to their success. "Everyone is a key to the offense; we swung the ball better and found the open guys" said Kelley.
"
We made some mistakes, but we didn't play lazy… I'm proud of that"
— Coach Chalk
Coach Scott Chalk was very pleased with the Bulldogs' outing tonight, and was high on their effort. "We didn't play lazy the whole game," Chalk said. "We made some mistakes, but we didn't play lazy, and that's a big thing. You have to overcome that every night, and that's the tough part about it with kids this age. So I'm proud of that."
With this win, Dunbar locked up the district #1 seed, which will result in a first round bye of the district tournament once the post-season begins.
Up next for the #2 Bulldogs (18-4), they will face Tommy L. Johnson Jr's Bryan Station Defenders (8-12) for the third time this season. The Bulldogs have come away with 25 and 35 point victories the two previous encounters. The game will be at Bryan Station on January 28 at 8:00.
Lamplighter Offensive Player of the Game: Taveion Hollingsworth (Jr.) 25 points, Paul Dunbar
Lamplighter Defensive Player of the Game: Dontell Brown (Jr.), Paul Dunbar
---
#2 Paul Dunbar (18-4) — Lewis 6, D. Brown 8, Hollingsworth 25, Keplinger 3, Kelley 6, Williams 14, J. Brown 4, Clark 4, Richardson 2.
#6 Lafayette (15-5) — Powell 5, Greenup 1, Dreux 3, Carpenter 4, Lane 5, Wharton 11, Jenkins 3, Watkins 10.
Dunbar: 11 19 21 22 — 73
Lafayette: 8 11 13 10 — 42