Dunbar Crushes Bryan Station in First Home Game of the Season
Taveion Hollingsworth's 35 Points Lifts #3 Dunbar over #21 Bryan Station in 84-59 Blowout Victory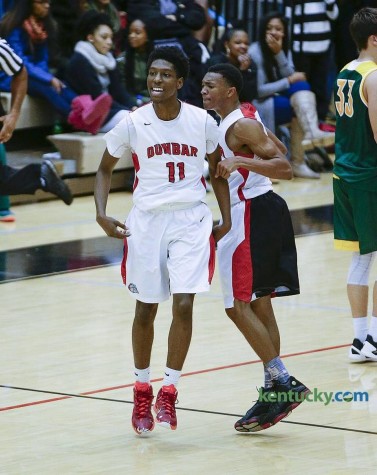 Lexington, KY— Dunbar came into tonight's match-up poised for revenge.
After falling to the Defenders last year (59-76) on Dec. 5, 2014, the Bulldogs were determined to have a different outcome this go around.
"We've been looking forward to this game for a while since we lost to them last year," said junior guard Taveion Hollingsworth. "All we've been thinking about is revenge."
The Bulldogs (2-0) backed up their stout #3 ranking and showed what they're capable of in a 84-59 wire to wire rout.
Firing on all cylinders, Hollingsworth tallied a season high 35 points on 15-19 shooting, while Senior point guard Jordan Lewis also ensured a nice outing collecting 18 points. Junior, and former Student Athlete of the Week, Dontell Brown was also a top contributor with eight points. Seniors Justin Kelley and Jordan Brown both had nice nights each tallying a season high in a different category. Kelley was a monster on the boards bringing in 11 rebounds, while Jordan Brown strung together 7 assists. Both proved to have valuable rolls in the victory.
Hollingsworth has led the way for the Bulldogs so far this season, scoring 56 points through the first two games. Dunbar also had an eye opening statistic as they found scoring from 9 different players.
"
All we've been thinking about is revenge"
— Taveion Hollingsworth
Bryan Station (0-1)  struggled out of the gates, especially without 6-5 senior all-city star DeAndre Dishman. Dishman suffered an ankle injury during warm-ups, and came out early in the first quarter. Even though they only scored 59 total points, senior guard Andre Davis led all scorers with 21, while senior guard Tim Dunn also posted 17 points.
The Bulldogs came out of the gates hot, starting with an 8-2 lead early in the first quarter. That lead extended as they led going into halftime 47-27. Entering the 4th quarter, they never let up, as they poured in 21 more points to hand the Bryan Station Defenders their first loss of the season.
"
We had momentum because of the fans cheering us on. We had a good atmosphere, and the team loves it"
— Tavieon Hollingsworth
The Dawg Pound was on the loose tonight adding extra energy to the game.
"Man, it feels amazing to hear you guys yelling your lungs out when I score – I love it. It gets me hype for the next play," Hollingsworth said of the student section. "We had momentum because of the fans cheering us on. We had a good atmosphere, and the team loves it."
It is important to note that the Bulldogs found a way to win over a top 25 team with the #3 player in the state, Darius Williams, only totaling 4 points.
Williams, who missed last game with an illness, was a little shaken. Coming out of the game early in the 3rd quarter with muscle cramps in both calves, he found himself sitting out for most of the remainder of the game.
Next up for the Bulldogs is the highly touted Madison Academy of Alabama. They will look to extend their perfect record to 3-0 as they travel to Marshall County to compete against the Mustangs.  Among their roster is the talented Michigan State signee Joshua Langford. Langford, a 6-5, 215 lb senior guard, is the #5 shooting guard in the nation and is rated as the #17 player in the ESPN100. He will be a good test for the Bulldogs in their journey toward the state tournament.
Make sure to come to Lafayette on Dec. 8, 2015 at 8:00 PM to cheer on your undefeated Bulldogs.
Paul Dunbar 84, Bryan Station 59
PAUL DUNBAR (2-0) — Hollingsworth 35, Lewis 18, D. Brown 8,  Kelley 6,  Homer 5, Williams 4, Clark 4, J. Brown 2, Keplinger 2.
BRYAN STATION  (0-1) — Davis 21, Dunn 17, Damarcus 7, Mckee 5,  Guy 4, Warren 4, Few 2.
Dunbar: 25 22 16 21—84
Bryan Station: 15 12 13 19—59