Lady Bulldogs Back in Action
Dunbar volleyball hopes to recreate the success of last season
Entering her 11th season as head coach, Jenni Morgan (268-110) and the Lady Bulldogs have their eyes set on success. Returning four of the six starters from last year's final four team, the girls have valuable experience in their returning players.
"We have very high expectations. Their goal is to go back and do just as well if not better than last season. We have a great senior class and we have one of the top defenses in the state. If we can play defense as well as we can, it will be very hard to beat us" Morgan said of the team.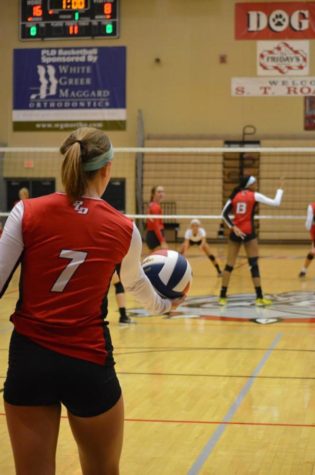 Senior superstar Leah Edmond, a University of Kentucky commit, and senior All City outside hitter Katie Shunk, who has committed to play at Xavier University, bring loads of offensive firepower. All City defensive specialist Francesca Macchiavello, Keriann Ferguson, Savannah Dudek, and freshman Alexa Hendricks will look to fill large roles. Additionally, all city outside hitter Asia Henderson, junior Amanda Moore, and sophomore Allie Chapman will be looked to for sparks off the bench.
Edmond, who was named to the All-State team as a junior, and is on the Under Armor All-American Watch List for this season, rounds out the trio of captains alongside Katie Shunk and Keriann Ferguson to lead this year's team above and beyond expectations.
"We want to finish better than last year, so we are willing to do whatever it takes to get back," said Shunk. "Our team works really well together and we are all striving for the same goal."
"
This year will be one for the books.
— Katie Shunk
Pacing this year's high powered offense will be senior setter Keriann Ferguson, who is filling a position that Mary Martin held before graduating.
"I definitely have big shoes to fill as an athlete and a leader on the team," said Ferguson.  "We have a lot of talent coming back this year, and people are really stepping up."
Morgan has no doubts in Ferguson. "She is a great leader and the girls really respect her and play hard for her. She has come in and worked very hard to make sure she is filling those shoes."
No. 6 Dunbar (3-1) looks to improve their record after an impressive start with notable victories over #7 Ryle and #12 Christian Academy of Louisville. The Bulldogs will encounter 8 pre-season top 25 teams in their journey to replicate last year's tournament run.
On September 3rd, they will begin district play in an away game against Lexington Christian Academy at 7:00.