Dunbar Bowlers are Strike Slayers
A look into Dunbar bowling through the eyes of seniors Aramis Linville and Charlie Smith.
This year's Bowling Team has followed their own advice, and it has led them to victory.
"The mental part of bowling is 60% of bowling," says senior Aramis Linville. 
With this in mind, Bulldog senior Aramis Linville and junior Charlie Smith have dominated Lexington's bowling scene for their entire high school careers. Together, they led Dunbar to a Kentucky State Championship in 2022. 
This year, in the Region 7 tournament, Charlie Smith placed 2nd and earned the Region 7 boys' bowler of the year as well as the boy's sportsmanship award of the year. Charlie Smith, Broox Golden, and Aramis Linville were named to the All-Region Team.
Charlie advanced to the State Tournament in Louisville, where he placed 15th with scores of 216, 156, and 204. Bowling tournaments are wildly unpredictable, as one slip of the finger can ruin a bowl and set the bowler behind. Teammates agree that Charlie's overall performances would place him comfortably higher than 15th in the State.
Next year, Charlie is bowling at Midway University and Aramis is bowling at the University of Pikeville. 
Bowling is technical and requires precision and mental fortitude. At the competitive level, a strike is an expectation.
Here's Charlie and Aramis' bowling story and their journey from recreational players to "Strike slayers."
Q&A
Question: How did you start bowling and what was it like just starting out in the sport?
Aramis:  I started bowling my junior year and it was rough to start. 
Charlie: I started bowling when I was 2 and got into tournaments when I was around 9. Starting out in the sport was definitely different than league and practice, everyone was better. 
Question: What's the bowling community like… who do you practice with and spend time with when you're bowling?
Aramis: The bowling community is nice and welcoming. I normally practice with Charlie and Broox Golden.
Charlie: The community is pretty small and close-knit relative to other sports, but it generally is very welcoming. When I practice I'm usually on my own or with some of my teammates from the league or friends that travel to tournaments with me.
Question: How would you describe your bowling training?
Aramis: I try practicing 3-4 days a week on spares so I can get the best score I can.
Charlie: When I practice I focus on fundamentals and mechanics, such as my timing, speed, release, and rotation of the ball. Spare shooting is important for tournaments when the conditions are tougher and you need to fill frames to make cuts and cash. Overall, timing and different releases with my wrist are what I work on the most. 
Question: How important is the mental side of bowling, and what do you think is the most important thing to focus on when you bowl?
Aramis: The mental part of bowling is 60% of bowling. The most important thing to focus on when bowling is what you are able to do not someone else.
Charlie: Once you get to a certain level, it's 98% physical and 2% mental. You establish a certain point of repetition executable every time, so it's important to stay focused on what you need to do. You have to trust yourself and trust what you know to succeed. The lane tells you what to do and you have to be clear enough in the head to respond. Emotions cloud your judgment.
Question: Any fun facts or eccentric things you like about bowling?
Aramis: I like how perfectly round the bowling balls are.
Charlie: When you leave the 4-6-7-9-10, that's called the "Greek Church."

About the Contributors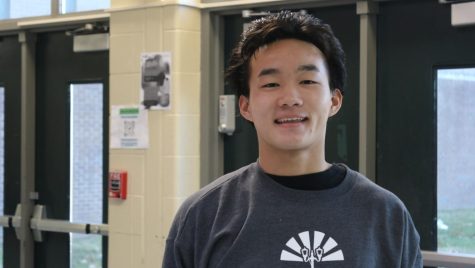 Nathan Zhu, Sports Editor
Hi, I'm Nathan! This is my second year on staff and my first year as the Sports Editor. One of my favorite things to do is watch and analyze sports, but...