Brown Catches Fire, Bulldogs Lose
Dunbar Loses Regional Matchup against Henry Clay, 69-76.
Dunbar lost in heartbreaking fashion on Jan.13 as they fell short in overtime to Henry Clay, 69-76.
It was their second match up against Henry Clay, with the Bulldogs winning 59-54 in their first meeting at the White, Greer & Maggard Christmas Tournament at Lexington Catholic.
Prior to this game, the Bulldogs were undefeated in region play, having a 7-0 region record. They have yet to win an out-of-region matchup, going 0-8 against teams from out of Region 11. 
They picked up their first region loss and fell to a 7-8 overall record while the Blue Devils improved to 13-3 and the best overall record in our 19-team region – Lexington Catholic is a close second with a 14-4 record. 
The score was held close the whole game until Konlin Brown opened up overtime by hitting two three-pointers. This extended the lead in a short 4 minute overtime to 6 points and the Bulldogs were unable to close the gap.
Going into the matchup, there was a mutual respect between the two teams.
"Number 2 (Aziel Blackwell) and Number 5 (Kanye Henderson) are their two best players," Coach Murray Garvin said before the game. "They're good enough that they're gonna score no matter what you do defensively, so you just have to keep them from having a big game."
On their coaching Garvin said, "They got a very good coach in Coach Brown… they've got a lot of tricks in their bag, and we just have to do a good job defending them."
The Bulldogs did in fact hold seniors Blackwell and Henderson from having big games. Blackwell and Henderson each finished with 16 points.
With Blackwell and Henderson somewhat contained, junior Konlin Brown stepped up.

Brown was on fire from the three-point line as he shot 8-15 from three and finished with 27 points. Post-game, he credited his teammates for the big performance.
"The biggest thing we believe in is trust and that's what we did tonight," Brown said. "I got hot and my teammates found a way to get me the ball. Just a big win for us."
Despite the loss, the Bulldogs played a solid game.
They shot 68% from the 2-point range and 42% from the 3-point range.
Junior Nick Spalding finished the night with 23 points and has now scored 23 or more points in 4 of his last 8 games. Junior Max Vandyke and seniors Lionel Kumwimba and Zach Carter also had solid performances, scoring 13, 12, and 10 points, respectively.
This game marked the fourth game back for junior Hunter Williams, who suffered a scope and partial meniscus injury which sidelined him for over 4 months.
"I'm just getting back into the groove of things,"  Williams said.

He still made a presence on the court, as he finished with 3 points and 4 rebounds. 
Despite Williams' return, the Bulldogs are definitely still feeling the absence of Cade Hilt, who recently reclassified to the Class of 2023, and who has been out with an ACL tear for the past 5 months. He is not expected to return until next season.
Also missing is senior Tim Hall, a potential top 5 player out of Kentucky, who is now playing for Vertical Academy alongside Class of 2023 superstar, Mikey Williams.
Despite these losses, expect the Bulldogs to bounce back.

Don't be fooled by their 7-8 record, this team is full of young talent – 5 of the 8 players who played in the game were juniors – and as they continue to gain composure, they will be a strong team to face in the 11 games remaining in the regular season and into the playoffs.
About the Contributors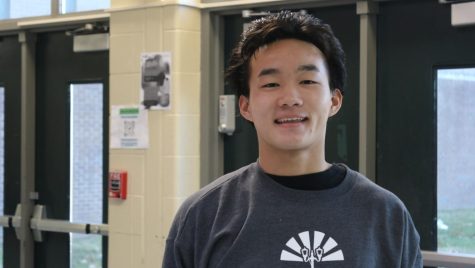 Nathan Zhu, Sports Editor
Hi, I'm Nathan! This is my second year on staff and my first year as the Sports Editor. One of my favorite things to do is watch and analyze sports, but...