A Football First
Making history, Dunar senior Bethel Green becomes first female player on the football team.
During the 2020-21 Dunbar football season, history was made. Not only was this season played in the middle of a pandemic, but Dunbar also welcomed its first female football player to its team: senior Bethel Green.
Green also played on the Dunbar girls soccer team. The two sports are highly different from each other when it comes to the conditioning, practice, and type of uniform and equipment athletes need to wear.
"It was not hard transitioning [from playing soccer to football]," Green said. "[I] just had to get used to wearing [the] equipment and gear."
Green said that her teammates were the ones who made her want to join the team in the first place.
"I have always wanted to play football," she said. "It was hard at first, but the team was encouraging." 
At the same time, joining the team was sometimes stressful for her.
"There was a lot of pressure on me because I didn't want to miss and the team expected me not to," Green said.
During her first game, though, Green scored.
"It felt like I was on top of the world when I scored in my first game," she said.
Green plays as a placekicker (PK) on the team, and does the kicking duties of field goals and extra points.
Green was the first girl to play on the Dunbar football team, and she believes that in the future more girls will begin to play the sport.
"I do believe I've opened a door to girls playing on the football team, and I'd tell other girls to be confident in your abilities and who you are," she said. "I think more girls will start playing in the future, except I think it should stay a male-dominated sport because it isn't built for everyone." 
In the spring, Green graduates. She plans on continuing to play football in the future.
"I plan on playing football in college [and] I am hoping to go to UK or Clemson," Green said.
"I do feel like I have been an inspiration [and] a lot of people have reached out and told me they're proud of me."
About the Contributors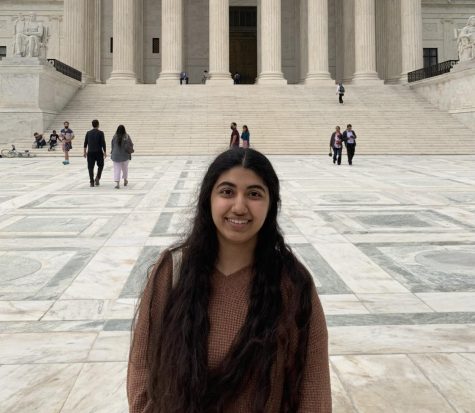 Nimi Bala, Editor-in-Chief
Hi! I'm Nimi, I'm a senior and this is my third year in Lamplighter. This year, I am one of four Editors in Chief for the program. I spent my first...