NFL Legend Gale Sayers
The Chicago Bears star and Hall of Famer died on Sept 23.
"The NFL family lost a true friend today with the passing of Gale Sayers. Gale was one of the finest men in NFL history and one of the game's most exciting players," NFL Commissioner Roger Goodell said in a statement Wednesday following the unexpected news of Sayers' passing.
Sayers died early Sept. 23 due to complications from dementia and Alzheimer's disease at the age of 77 according to his step-son Guy Bullard. 
Sayers, known as the "Kansas Comet," played for the Chicago Bears and is considered one of the best running backs in the history of the NFL despite having his career cut short due to knee injuries.
Sayers wrote his autobiography, I am Third, which talked about his family, his almost career-ending knee injury, and his friendship with fellow Bears player Brian Piccolo who sadly died at the age of 26 from germ cell testicular cancer in 1970.
Sayers' autobiography inspired the Emmy Award-winning movie, Brian's Song, which was released in 1971 and then remade in 2001. This helped to spread his name further in the sports world and beyond that world.
At the University of Kansas, Sayers decided to play for the Chicago Bears in 1965. During his rookie year, he scored a total of 22 touchdowns, 6 of which occurred during a single game.
In 1968, Sayers suffered an injury in his right knee that left him out for the rest of the season. When he came back in 1969, he was named NFL Comeback Player of the Year according to the New York Times. 
In 1977, at the age of 34, Sayers was inducted into the Pro Football Hall of Fame with only 7 seasons under his belt. He was the youngest player to ever be inducted.
Once he retired, Sayers became an athletics director at the Southern Illinois University-Carbondale and he also became a philanthropist for many Chicago inner-city youth initiatives.
About the Contributors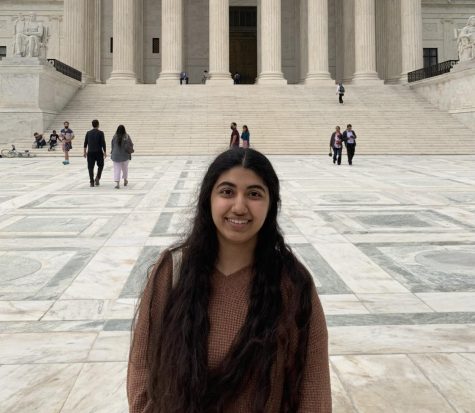 Nimi Bala, Editor-in-Chief
Hi! I'm Nimi, I'm a senior and this is my third year in Lamplighter. This year, I am one of four Editors in Chief for the program. I spent my first...