NBA Conference Finals Predictions
The Conference Finals have begun, so it's time for some predictions
The 2020 NBA Conference Finals have begun, so it's time for some predictions. In the East, can the Miami Heat upset another higher- seeded squad, the Boston Celtics? And in the West, can the Denver Nuggets continue their magical run against the Los Angeles Lakers? Find out, by reading this article.
Miami Heat v.s Boston Celtics:
The Miami Heat won the previous round by locking down Milwaukee Bucks star forward, #34 Giannis Antutekumpo, however, their match-up with the Celtics may be far harder than that. The Bucks don't have anyone that can create their own shot.
The Heat's strategy was to put a wall of players in the paint to stop Giannis, and while this does leave players open from time to time, the Bucks don't have many shot creators, or many consistent shooters in general. This won't work against Boston, due to all the shot creation they have.
"I think Jimmy Butler can guard one of them, but not all 3,."Landon Smith said. The 3 players he was talking about were: forward #0 Jayson Tatum, guard #8 Kemba Walker, and guard/forward #7 Jaylen Brown. All 3 of these players are incredible offensively, though, Jaylen and Kemba have been inconsistent in the playoffs.
This, in my opinion, is one of the main reasons I believe the Boston Celtics will beat the Heat. That, and the Celtics' x-factor, guard #36 Marcus Smart. He has been great in the playoffs, despite the inconsistent shooting.
"His defense will definitely be a challenge, but I don't think it will make or break them" Smith said
when referring to how Smart will affect the Miami Heat.
So what can Miami do? Well they have two of the best defenders in the league, with forward/center #13 Bam Adebayo, and forward/guard #22 Jimmy Butler. Butler and Bam have consistently willed this team to victory in the playoffs, and Bam could be huge, as Boston doesn't have any real threats at the center position, and only one threat at power forward, with Tatum who may not guard Adebayo for most of the game.
When asked about how this duo will affect Boston, Smith said "Boston might try to put in more perimeter players, and switch Tatum off of Butler as much as possible."
The other thing the Heat have over Boston, is depth. The Celtics bench is mediocre at best, and it's only strength was Marcus Smart. However, forward Gordan Hayward got injured, which forced Boston's only strong bench player to start. Hayward may make a return, which will help, but certainly won't give them an advantage over the Heat, who's bench consists of forward #9 Kelly Olynyk, guard #14 Tyler Herro, who made an all-rookie team, and guard #25 Kendrick Nunn just to name a few.
The Heat's depth will give them an advantage in "pure offensive firepower,." Smith said.So, who wins the series?
I think it comes down to the fact that the Heat's main strategy is to make teams shoot the ball when they don't want to. But Boston has far too many shooters for that to work, even if one, or even two are cold, there will be at least one that's hot. And while yes, Miami has an advantage down low with Bam Adebayo, if Boston finds any way to take him out of the post, they could limit the Heat both offensively and defensively.
Miami point guard Goran Dragic may have an advantage when guarded by Kemba Walker, the other two stars will more than make up for that because Tatum is a lockdown defender, and Brown is also able to limit teams' best players from time to time, meaning Butler, and Adabayo will have to work for every point.
The Heat's depth advantage won't help them as much as a lot of people say, because we've seen many times that Boston's starters are capable of playing 40 + minutes a game. Thus, I think Boston wins, in 5-6 games.
Denver Nuggets v.s Los Angeles Lakers
The Denver Nuggets are here after beating the title favorite L.A Clippers in 7 games. Meanwhile, the Los Angeles Lakers beat the Houston Rockets in 5 games to get here. So, who wins this match-up. I think It's closer than some people may expect. Let's go over the Nuggets first.
The Denver Nuggets have a clear advantage with their guards, having guard, #27 Jamal Murray, and #14 Garry Harris as well. However, it's only an advantage because the Lakers just don't have any real threats at that position. Aside from when they play #23 LeBron James at point guard, which won't be done regularly I imagine.
"If I had to put it on a scale of 1-10, I'd say 6,." fellow Lakers fan Ryan Hiler said, "Jamal Murray is a problem on offense, and they can always put Jokic as the point guard because he's such a good passer."
What he didn't mention, and why I assume he put their threat level at a 6, is Denver's lack of defense. #15 Jokic isn't terrible on the defensive end, but he's normally not a difference- maker on that end. #27 Murray isn't good on that end either, and overall they aren't good on that end of the floor, ranking 17th in defensive efficiency according to teamrankings.com.
Let's talk more about #15 Jokic has been a monster this postseason, and has even had some good if not great games defensively which is rare. He's averaging 25.4 points, 10.8 rebounds, and 6.0 assists per game in the playoffs.
The Lakers may not completely stop him for a whole game, but they do have someone that can stop him when he's on the floor.
"Jokic could put a body on most of them (Lakers centers), but AD should be fine and be able to block his shots," Hiler said about Jokic and his match-up with the Lakers. Lakers forward #3 Anthony Davis is arguably the best rim protector, and overall defender in the league. And he's had success when guarding #15 Jokic.
Against L.A, #15 Jokic is averaging just 16.3 points, 5.8 rebounds, and 5.8 assists. This will be a significant problem for Denver, but not as big of an issue because #27 Jamal Murray has stepped up so much in the bubble. However, Murray is still inconsistent, heck, a lot of Denver's roster is. They need Jokic to be a consistent offensive threat and that may not be something he can be.
Something in favor of Denver is L.A's lack of consistent shooters. Guard #14 Danny Green was signed specifically to help with this, something he has not done, especially in the bubble. Guard #1 Kentavious Caldwell-Pope is another example of this, and so is every other player on the roster.
According to Ryan Hiler, however "in the first couple games, they'll struggle, but after that, once they've figured out the defense, they should be alright." I do believe however that they can figure out the defense and still lose. I've watched them have games where they out-play their opponent, but they lose because they can't hit a shot for their life. So it is a concern especially because Denver won their last series partially becuase their opponent, the L.A Clippers, also couldn't hit a shot. Something may be able to offset this though.
The L.A bench, while it isn't the most talented in the league, is pretty good.
, "The Laker's depth is definitely gonna help them win this series,." Ryan Hiler said. I agree. Aside from forward #1 Michael Porter JR, Denver doesn't have much talent on their bench. L.A does. With #1 Kentavious Caldwell-Pope, guard #4 Alex Caruso, center #39 Dwight Howard, forward #88 Markieff Morris, and forward #0 Kyle Kuzma who are all good bench players. This massive amount of depth should help the Lakers, and it has helped them in the past. So, who wins?
Well, I think I've made it obvious. L.A wins. Even if they end up being evenly matched, the Lakers have #23, LeBron James. Widely considered the best player in the league right now, and some would even say ever (I have him #2 on that list but you get the point). #23 LeBron James has only lost in the conference finals once, and it was 11 years ago with a Cleveland team that honestly had no business being there. I don't think these teams are evenly matched, but Denver also is a worse team than the L.A Clippers and look at what happened. LeBron is the x-factor here, and while Denver has an x-factor in #1 Micheal Porter JR, but #23 James is leaps and bound better than #1 Porter. That's why the L.A Laker win this series in 6.
About the Contributors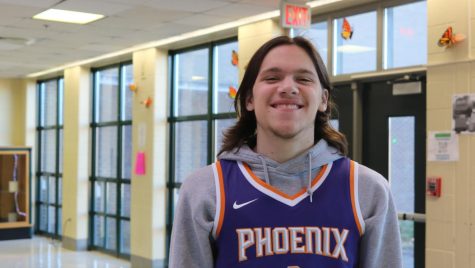 Kyle Smith, Staff Reporter
Hello. I'm Kyle Smith, this is my fourth year in Lamplighter now. I am a staff writer and have been for years now. I've loved writing since I was a...