Dunbar Swim Team is More Than Just a Team
For the 13th year straight, they dove into a regional win.
This past weekend, the Kentucky state swim competition took place at the University of Kentucky Aquatics center and Dunbar dove in headfirst.
For the past 13 years, Dunbar has won every regional meet they have participated in and kept the streak alive this year. For a majority of the students on the team, swimming has been their whole lives.
Senior Robby Neal has been on Dunbar's team all four years of his high school career.
"I have been swimming for 12 years. I started swimming when I was really young. I started on the Signature Club Gators summer swim team," Neal said.
Neal has been swimming since he was a child and created many relationships with members of Dunbar's swim team.
"My favorite memory has definitely been competing at the regional meets. Dunbar has made swimming a team sport rather than an individual sport," Neal said. 
Dunbar's swim team has always performed well as a team, and a big reason why is the constant support of one another. Although they swim alone, they win together.
Taylor Albrecht is a senior and has been on Dunbar's team for the past four years. Albrecht was awarded the KHSAA Swimming and Diving Female Student-Athlete of the Year. 
"My favorite memories have been winning regionals. Regionals are a really fun meet overall because the whole team comes together and everybody cheers each other on," Albrecht said.
The Dunbar Swim team does a lot of team bonding to help create a strong team.
"We always have a pasta party before regionals and state, and at the regional ones the girls get together and make t-shirts with whatever we can find and they always turn out looking really bad, but we wear them anyway," Albrecht said.
Freshman, Alex Ochsenbein joined the Dunbar swim team this past year.
"I love competing and not to brag, but with my level of swimming, I feel like a high school level would be a good place to swim," Ochsenbein said.
Not only does this team continue to welcome past teammates back every year, but it allows underclassmen to find their place too.
Dunbar's swim team has helped so many kids find a place where they feel welcomed and supported to play the sport that they have spent their whole lives training for and will continue to help the future student-athletes of Dunbar for years to come.
About the Contributors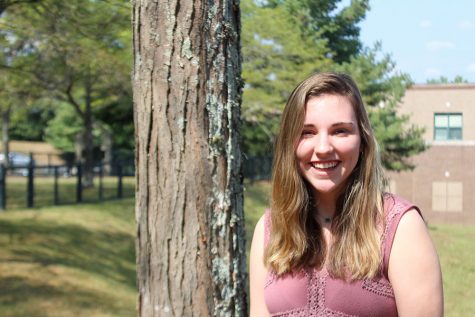 Elizabeth Fitzpatrick, Staff Reporter
I'm Elizabeth Fitzpatrick and I'm a Junior. I dance competitively at a studio called Creative Edge and I love to create art and write. I wanted to...