Dunbar Beats Catholic in Impressive Shutout
Dunbar volleyball has had a very successful season, and their Oct. 23 match was no exception
The Bulldogs played the Lexington Catholic Knights in the last round of districts before the playoffs that were held the next night.
From the beginning of the first set, the Bulldogs were on fire. Catholic held their own but became sloppy after Dunbar gained a significant lead, ultimately causing them the first set. 
After losing the first set, Catholic comes out of a timeout ready to tie the score. In the first minute, Catholic scores two points. A severe spike from Catholic clears the net and hits the ground as #4 Campbell Gash dives for the ball and misses, giving Catholic another point. 
But the Knights don't stay on top for long; a solid volley ends in a point for Dunbar, making the score 6-3. Catholic's outside hitter makes contact but sends the ball out of bounds. 
They continue with a valiant effort but Dunbar holds a 10-point lead. After being set, a Catholic player spikes the ball but is immediately blocked by #14 Eleanor Davis, putting another point on the board for the Bulldogs. 
With the set close to the end, Catholic gets nervous and loses poise. A foul on Catholic hands the ball over to #2 Lauren Spanyer for a serve. Spanyer gets an ace and serves again. Both teams hold their own in another long volley. #13 Peyton Gash spikes the ball but is just shy of the net, giving Catholic their first point in several minutes. 
Keeping an organized front, Dunbar wins the second set looking for a shutout to send them to the final district match. 
At the beginning of the third set, #18 Nyla Gaines double hits handing over the ball to the Knights. After the ball is returned #8 Olivia Stotz serves the ball but can't return it after it is set by Catholic's setter. 
Gaining momentum, Catholic continues to put points on the board but can't come back. Dunbar wins the third set, ending the match and sending them to the next round against Tates Creek. 
About the Contributors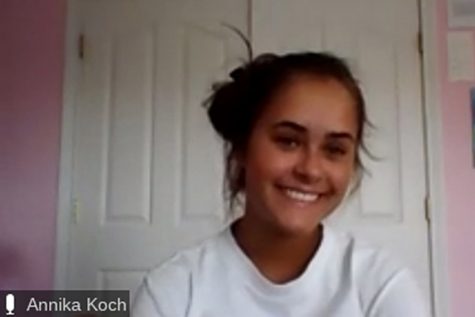 Annika Koch, Business Manager
My name is Annika Koch and this is my third year on staff and second year on the Editorial Board. I first joined this program as a member of the photography...