Protection Over Privacy?
Social Sentinel Contract Renewed for Fayette County on April 12. Why aren't more people talking about it?
I think it's fair to say that the top priority of any school district, including Fayette County Public Schools, is the safety and well-being of its students. Kentucky's Senate Bill 1, also known as the School Safety and Resiliency Act, passed in 2019 and outlines the efforts being made to make sure that there is an appropriate response to any emergency or trauma situation. 
In compliance with this law, the 10-point District Safety Plan set by late Superintendent Manny Caulk details safety additions to schools like metal detectors, security ambassadors, and additional mental health professionals. 
Among the additions to his plan is heightened social media monitoring. 
To execute this, a company called Social Sentinel was contracted. This is an outside source unrelated to, and not exclusively made for, Fayette County Public Schools. 
On April 12, the Board of Education approved a renewal of FCPS's contract with the company. 2021-22 will be the third year of Fayette County's contract with Social Sentinel.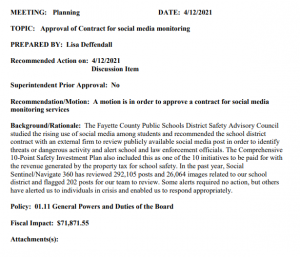 According to the April 12 board meeting minutes, the cost is $71,871.55 using funds set aside from the increase in property taxes.
I reached out to District Spokesperson Lisa Deffendall who replied via email that the program was not new. She said, "I am happy to speak with you, but this is not new."
Although, I found that the contract with Social Sentinel is news to a majority of Dunbar students and parents. 
As a 2021 graduate, I was not aware that the district had been using this company to track the social media of employees and students for the past three years, all of which I spent at Dunbar. Neither were my friends or their families, in fact, some said they hadn't heard any comment on it. 
"I would have appreciated it if they had told me, after the fact when you find out they didn't you start wondering why," Sonia O'Nan, a parent of two Dunbar students, said. 
The issue here is not that the contract is in place, it is that the majority of the affected population are in the dark. But, once an explanation was given, they were not completely turned off by the idea.
"I don't blame them for wanting to scan social media…as a parent, I want that, if there is a chance of flagging a person as violent, that might save a child's life," O'Nan said. "Now the transparency of it is a different issue."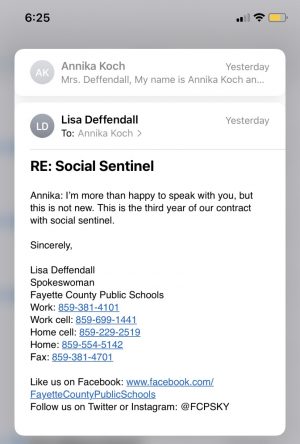 While recognizing that this was initiated with good intention, I started researching FCPS's contract with Social Sentinel and what it entails. Then I started asking if my peers had ever heard of it.
"I think it should definitely be more widely known because it's a bit of an invasion of privacy," junior Caroline Devine said. "When we sign release waivers to use our pictures and voices that would be a good time to tell us."
The phrase 'invasion of privacy' was repeatedly used by several people.
According to Social Sentinel's website, they use technology that has the sole purpose of flagging digital threats and combating them before they become an irreversible problem.
Using their Language Engine, Social Sentinel is intentional about staying up to date on sociolinguistics and how they change from generation to generation, updating their software, and using decryption techniques to catch concerning language at the source.
Further, the algorithm uses contextual evidence to analyze pictures and videos to decipher if the information and content are suggesting harmful behavior to the individual in the media or to their peers.
Out of curiosity, I contacted the company to ask about what qualifies as "harmful language" and what severity of language constitutes a response from the school or law enforcement. 
My inquiries were forwarded to their communications department, and I was put in contact with a team member. 
Upon my request for more information, I was sent several links to their website detailing their devices and several of their policies. 
I arranged an interview, and the marketing director asked to be given a list of questions prior to our interview, however, it is against our program's policy to provide any questions beforehand.
After I shared our policy, I received no further response. I followed up three more times over the span of a month and heard nothing back.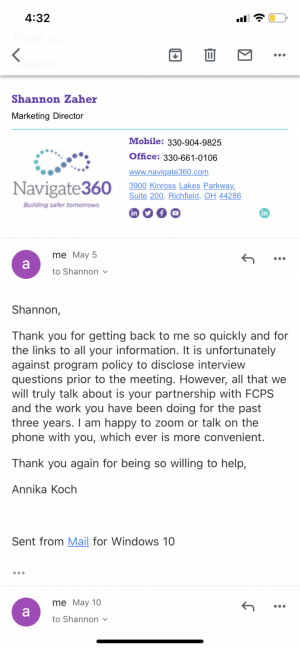 But what I've gathered from the sources they provided is that Social Sentinel does not breach the walls of private accounts. 
Their goal is to "review publicly available social media posts in order to identify threats or dangerous activity and alert school and law enforcement officials."
Last year they reviewed a total of 318,169 posts and images and less than 1% of those were flagged, but an even smaller portion of that 1% actually required action, which is a very telling statistic. 
It is no secret that once something has been posted on the internet there is a viable risk that it will fall into the hands of the unintended audience. But if Social Sentinel only accesses public accounts, is it even worth the $71,871.55 price tag? Aren't most people savvy enough to make their accounts private, especially if they are posting unacceptable material? 
And does the contract with this company make students and parents feel violated or safe?
"I get the point, it probably wouldn't be as effective if everyone knew about it," Bella Burns, a recently graduated senior at Dunbar, said. "It is kind of on the person because they could be doing more to protect themselves on social media." 
As most teens know, the majority of threats would naturally be posted on accounts with privacy restrictions. Students put these walls up for various reasons, sometimes to feel safer and sometimes to keep their posts to a more intimate audience. 
"I do it more so for privacy reasons, I don't want people that I don't know in my business or knowing what is going on in my life," senior Tanáya Cecil said. 
In contrast with this, some users use these settings to protect themselves.
"My parents scared me into thinking that if it wasn't set to private, creepy people would find me. It made me feel safer on social media," Burns said. 
However, there have been reports from public accounts since the beginning of the contract with Social Sentinel. Because of the lack of transparency and the refusal of an interview, I was unable to learn about these specific cases. Although it is fortunate that threats like these were reported, there is already an established outlet for reporting possible threats in Fayette County Public Schools.
After the installation of The STOP Tipline, an active method of reporting that is anonymously done by real people who feel unsafe, the partnership with Social Sentinel by sharp comparison is arguably less effective. It is a passive platform that is solely reliant on an algorithm that searches publicly available accounts. 
Both STOP Tipline and Social Sentinel have obvious flaws whether it be human error or misinformation or a source that is too concentrated or not concentrated enough.
I began working on this story in April, solely because I wanted to investigate the details and hear from the people in authority about why and how this was taking place. After multiple attempts to get information from sources in Fayette County Public Schools and from representatives of Social Sentinel, I am still left with these questions: 
**Why was a partnership with Social Sentinel necessary along with STOP Tipline?
**What qualifies as harmful content/language?
**How does Social Sentinel's technology keep up with slang from generation to generation?
**What is the process of addressing the issues after they are detected? 
**Why was this not directly sent as a correspondence to students and families? 
I graduated in May, but have continued to work on this–the final article of my senior year–hoping to get the answers by following up with sources, but I never did. I no longer attend a Fayette County public school, and arguably, this no longer affects me. But, I'm publishing this piece and continuing to care because I believe that a different approach would have yielded a better solution.

"
I'm urging the Board of Education to find student representation when making decisions such as this…"
I'm urging the Board of Education to find student representation when making decisions such as this, and I'm urging students to be involved in what is happening in their school environment. After all, no one knows what is going on on social media better than students themselves. 
It only makes sense to make every effort to keep them informed, if there had been explicit mention of this contract and students had been educated on why and how it was being implemented I am positive we would have seen a drastic change in what students choose to post on both public and private accounts.
What drew me to this issue, to begin with, was that no one had made an effort to tell the students what was happening. How is keeping us in the dark keeping us safe? Yes, the school board posted the contract publicly in their notes, and yes, the notes are public, but direct communication through Infinite Campus would reach many more parents and students.
I encourage Fayette County to become more proactive about threats rather than lying in wait for one to be posted. Engage the student body you are trying to protect, entertain their questions about your policies, start candid conversations about the use of social media and how posts can be harmful. Taking these steps ahead of time can help ensure that when a student feels the need to post something that would potentially be flagged, they may feel comfortable enough to bring it to someone first. 
I am also calling on my peers to stay curious about what is happening behind closed doors–students also have a responsibility to dig for information, ask questions, and stay informed.
Hopefully, someone else will have a loud enough voice to get the answers no one wanted to give me.
Good Luck,
Annika Koch
About the Contributors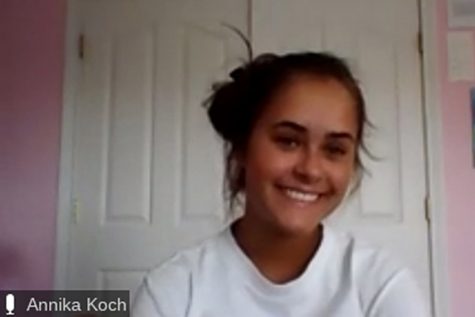 Annika Koch, Business Manager
My name is Annika Koch and this is my third year on staff and second year on the Editorial Board. I first joined this program as a member of the photography...