Seniors Reflect on Virtual Learning
For students about to graduate, losing a year of high school is especially difficult.
When my senior year first started in August, I was a little bummed out that it was starting virtually, but I had some hope that by second semester we would be able to have a somewhat normal last semester of high school. Now that I am a month into my last semester of high school and it is still going on the way it is–all virtual with no senior activities or sporting events–it's getting to be really hard.
Dunbar seniors seem to agree that this year has been disappointing. 
"It feels like I missed out on a lot, and it feels like it was over sooner but without the memories, we would've gotten in a normal year," senior Audrey Jones said. "We may never have a prom or a senior dinner dance, and that's a really weird feeling to never have those memories that you've looked forward to your whole life."
Knowing that I haven't gotten a normal senior year and never will also makes me really sad. That's something I will never be able to get back. I never would've imagined my last two years of high school to go the way they've gone. I still have hope that it will only get better from here, but as I start planning for college, that mindset is becoming very hard to maintain.
"In the beginning, I was a little bummed because I'll be missing games and dances," senior Nina Daman said. "I wouldn't have the same experiences as other seniors, like having senior tailgate, senior dinner dance, senior trips, and prom. Now, I just want it to be over."
We all missed out on so much this year and are continuing to. No one but us as a senior class can truly know what we're going through. But in order to get through this, we all need to have a positive mindset.
"
Now, I just want it to be over.
— Nina Daman
"It is really unfortunate to spend the last year of high school this way and not together with friends and teachers. I am really hoping to have a prom and graduation if safe, of course. When we got out of in-person school last year, I didn't think of how long Covid could affect our schooling and everyday lives," senior Areeda Aftab said. "But although I am missing out on a lot of experiences, I like to think about how this time has gotten me close to my family and has taught me to value the things and people we have around because it may not be there someday. Being at home gave me time to work on myself in areas I needed improvement. I am looking forward to college and what it brings while trying to make the best of what I have in my life right now."
Writing this article is really making me tear up. Sometimes I just sit back and try to think about what senior year is supposed to feel like and how I will never truly know. I've been looking forward to this year of high school for 13 years now, and for it to end like this is really disappointing. I am a strong believer that everything happens for a reason, but it's been really hard to keep that mindset in this situation. On March 13, 2020, when we were told we would get two weeks off of school because of this virus, little did we know all it would cause us to go through and all it would take away from us. The first day of senior year, football games, homecoming, that social senior year feeling: these are all things we will never get to experience, and knowing that hurts more than anything. But I also try to see the positive things it has done for us, the unique experiences and unexpected opportunities to grow.
"I am disappointed about not being able to see my teachers and classmates like we used to," senior Emily Spores said. "I missed out on a classic senior year of procrastinating work and going to football games. But this whole experience has taught me how to have patience. I will miss my school and its staff, but I learned a lot from doing school at home, too."
Going into the month of February and continuing my senior year, I am going in with the hope that it will only go up from here.
About the Contributors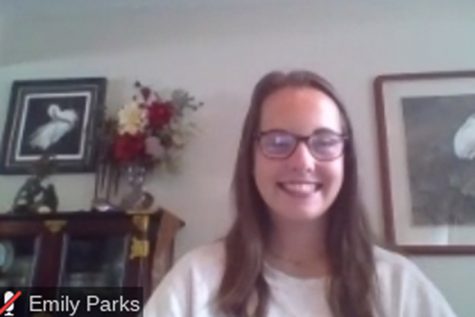 Emily Parks, Staff Reporter
My name is Emily Parks, I am a senior at Dunbar and this is my third year on staff. In the past I have worked with human relations and been the human relations...