What You Should be Watching
Stop watching The Office on repeat and try one of these amazing titles.
In the last decade, home video has greatly evolved. From standard VHS tapes to Blockbuster DVDs, to today where major online-video sites such as YouTube, Netflix and Hulu give consumers the convenience of accessing any film without leaving the comfort of their home.
However, with new and exciting titles continuing to pour from Hollywood, many great films often go unwatched. That's why I am happy to present my top list of shows and movies that I promise will not disappoint.
The series focuses on Eleanor Shellstrop, played by Kristen Bell. After being dragged by a line of shopping carts and then hit by an oncoming storage truck, Shellstrop wakes up in the Good Place, a heaven-like afterlife where only the best can thrive.
However, she soon realizes that she was sent there by mistake and must hide her morally imperfect behavior while trying to become a better and more ethical person.
William Jackson Harper, Jameela Jamil, and Manny Jacinto co-star as other residents of The Good Place, together with D'Arcy Carden as Janet, an artificial being who knows all the information in the universe who helps Shellstrop and the other residents find their way through this twisted afterlife. Together, they help one another to be a better version of themselves.
I recommend this show for the most loyal binge watchers who enjoy a good laugh. However, asides from its comedic elements, it emphasizes that change is possible with practice and determination.
Seasons one through three of The Good Place can be found on NBC, Netflix, Hulu and Amazon Prime Video.
The CBC Canadian sitcom is based on Canadian actor and playwright Ins Choi's 2011 play, Kim's Convenience. The show and play center on first generation Korean-Canadians, the Kims, and the crazy events that happen within their lives and shop.
Mr. and Mrs. Kim, the main characters of the show are played by actors Paul Sun-Hyung Lee and Jean Yoon. The two believe that they are modern and have fully integrated into Canadian culture, however, according to their Canadian born children Jung Kim, played by Simu Liu, and Janet Kim, played by Andrea Bang, their parents tend to keep a more extreme Korean onset in the way they go about life.
This hilarious show is fun to watch with all ages and should be applauded for it's relatable yet diverse take on traditional television sitcoms, I recommend this show to anyone who wants to see a new perspective on family life.
Kim's Convenience can only be found on Netflix and Amazon Prime Video.
A show that follows a couple, Mickey, played by Gillian Jacobs and Gus, played by Paul Rust, who must navigate the exhilaration and humiliations of intimacy, while balancing the up's and downs of life.
Along the ride, free-flowing and wild Mickey teaches awkward, promising scriptwriter, Gus, how to let go of his worries and show him what it feels to be free both in life and love. While Gus teaches Mickey that it is okay to want to be a better person who shares their feelings, rather than hide them away.
Though it is on the more adult side of the spectrum, LOVE will make anyone young or old laugh, cry and reminisce at the same time and is definitely worth the watch. Battling the waters of romance isn't easy, but seeing what they go through really gives audiences a sense of ease for their own affairs.
Currently, LOVE can only be viewed on Netflix.
The year is 2073, where overpopulation causes the enforcement of the strict mandatory one-child-per-family policy, called the "Child Allocation Act." Under those circumstances, the ruthless political activist Nicolette Cayman, played by Glenn Close, promises a bright future in a brave new world.
Retired Engineer Terrence Settman, played by Willem Dafoe, decides to get around the government's decree, in a desperate attempt to hide his septuplet grandchildren, played by Noomi Rapace. As a result, the siblings will inevitably take turns impersonating their late mother, Karen Settman, going out in the world only one day of the week, sharing information with the rest of the sisterhood every night. And then, one day, something happens to Monday.
I recommend this film to anyone who loves sci-fantasy and dystopian themed titles. What Happened to Monday is a really cool twist on human society and the consequences that may arise if certain behaviors continue.
Currently, What Happened to Monday can only be found on Netflix.
.In 1946, a London-based writer, Juliet Ashton, played by Lily James, begins exchanging letters with a group of residents on the island of Guernsey,  a town which was once German-occupied during WWII. When an idea for a book catches Juliet, she goes to visit the island, making lifelong friends and taking life-changing steps along the way.
Based on the historical novel by Mary Ann Shaffer and Annie Barrows, the Guernsey Literary and Potato Peel Pie Society is a beautiful story of love, friendship and the sadness of friends lost, but gives another perspective into what some ordinary people did to combat Nazi Germany.
The Guernsey Literary and Potato Peel Pie Society is available only on Netflix.
This comedic, coming to age story stars Hailee Steinfeld as high school junior Nadine, who grew up has always felt left in the dark by her peers, family and life in general. But as her older, all-star brother Darian, played by Blake Jenner, starts to date her one (and only) friend Krista, played by Haley Lu Richardson.
Nadine begins to feel more alone than ever, until an unexpected friendship between her teacher Mr. Bruner, played by Woody Harrelson, and fellow classmate Erwin, played by Hayden Szeto, gives her a glimmer of hope that things might not be so bad after all.
This film is a pure masterpiece and surely gives insight on the hidden side of adolescence; despite a few adult themes, it is sure to resonate with audiences who, like Nadine, feel as though growing up in today's world is a constant losing battle.
I highly recommend this movie for current and upcoming high school students, because it really teaches teens that it is okay to express feelings and that the world is not totally against them.
The Edge of Seventeen can currently be found on Netflix and Amazon Prime Video.
Based on a true story, Susannah Cahalan, played by Chloë Grace Moretz, an up-and-coming journalist at the New York Post becomes plagued by random symptoms of an unknown disease.
As weeks progress and Cahalan quickly moves deeper into insanity, her behaviors shift from violence to absolute chronicle mayhem; leading up to her ultimate hospitalization.
After a series of tantrums, misdiagnosis, and running out of time to save herself, a doctor's last-minute intervention enables him to give her a diagnosis and a chance to rebuild her life.
Based on the real Susannah Cahalan's autobiography, this film will take you on a ride of emotion, as audiences laugh at the secondary comedic nature of Moretz co-stars, Tyler Perry and Jenny Slate, to yearning for Cahalan to live through the traumatic events she experienced during her period of psychosis. For anyone who enjoys scientific-oriented films, this one is sure to be a thrill.
Brain on Fire can only be found currently on Netflix.
In this modern-day retelling of the Beauty and Beast fairytale, Detective Catherine Chandler of NYPD, played by Kristin Kreuk, is shaken to the core over the fact that everything she thought she knew about her life has been a lie.
In an attempt to get answers to the secrets that have been revealed about her family, including the curious past of her deceased mother, Chandler enlists the help of ex-veteran Doctor Vincent Keller, played by Jay Ryan. Keller, who struggles with becoming a terrifying beast after a government experiment goes wrong to create the perfect super-soldier, soon realizes that he may be closer to Chandler than just as an investigative partner.
As answers lead to more questions and as romance brews between the two, the pair continue to fight for each other, even when faced with certain death by the secret organization, Muirfield,  that first tested on Keller.
Lovers of the hit television show Law and Order and its subseries, Law and Order: SVU and Law and Order: Criminal Intent will absolutely adore this criminal fiction/fantasy show and its twists on the ideology of governmental experimentation.
This show is currently only available on Netflix, due to its cancellation on the CW.
The series follows three suburban Detroit mothers Ruby, played by comedian Retta, and sisters Beth and Annie, played by Christina Hendricks and Mae Whitman, who are having a hard time trying to make ends meet. Tired of scrounging around and having everything taken away from them, they decide to pull off an unlikely heist by robbing a supermarket, only to discover that they're in for more than they bargained for.
Attracting the attention of a widely known gang, who in an effort to have their money back, recruits the three women to retrieve counterfeit money. Little did they know, that the robbery at the supermarket would only propel them, one more than the others, deeper into the depths of gangster life.
I highly recommend this show for all mature audiences, most specifically women, for it's the empowerment of feminism and takes on gender roles in what is considered a man's world, showing that women can do what any man can do.
Seasons one and two of Good Girls is currently available on NBC, Netflix and Amazon Prime Video.
After spending a night with the girl of his dreams Avery Martin, played by Alexandra Daddario, only to become just friends, Noah Ashby, played by Adam DeVine, gets the opportunity to travel through time in the curious photobooth they once met in and change the events leading up to Martin's engagement with Ethan, played by Robbie Amell, in order to sway the odds in his favor and get the girl.
With the comedic banter between DeVine and Daddario, this film is sure to be a delight, especially to more mature audiences. This film is such a heartwarming movie and I highly recommend this movie for anyone who has or is struggling with relationships, because in the end, it teaches that if you keep chasing someone who has no intention of getting caught, you might miss the one you were really looking for.
When We First Met is only available for viewing on Netflix.
Grab a snack and get comfortable, because these movies and shows are certainly fantastic and will have viewers binge watching for hours.
About the Contributors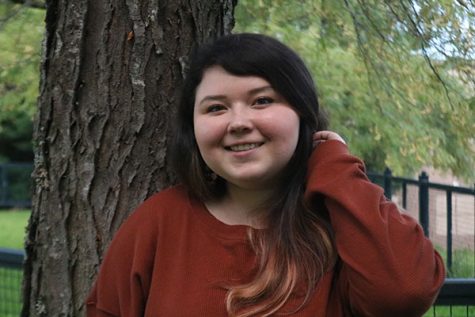 Emily Hacker, Maestro Leader
Hi! Im Emily and I am PLD Lamplighter's Maestro leader and comic artist. I manage our four broadcast teams who weekly film segments for WPLD. I also manage...